Mombacho Cigars Tour – Granada, Nicaragua
If you find yourself in Granada, and always wanted to look like the legendary Arnold Schwarzenegger then do I have the perfect tour for you! The great, Mombacho Cigars in Granada, Nicaragua puts on tours every weekday of their facility and it is the perfect thing to do for all of you cigar aficionados out there, or even those of you who don't smoke. 
Now, I did this myself and enjoyed it so  much that I don't want to spoil anything from it. That's why I'm only going to provide some basic information about the tour and show you nothing from inside the building. 
This tour is famous, but there's surprisingly not much information about it out there. If you feel like following this legendary cigar brand, here's their Facebook and Twitter.
Oh, and for all you Canadians out there, the owner of this company is Canadian and owns Steam Whistle beer! You'll see a couple nods to Canada throughout the tour.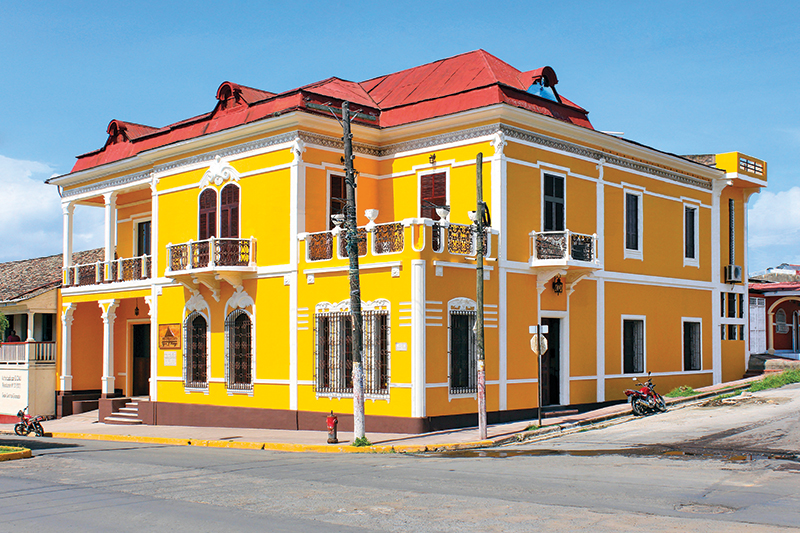 Mambacho Cigars is located about a ten minute walk away from the central plaza. As shown in the picture above, the building sticks out so there shouldn't be a chance of you accidentally walking past it. I recommend doing this tour on the hottest day possible, so you can really appreciate the AC when you go inside to their smoke room. 
This is your classic smoke room; with big comfy chairs, a bar that holds a variety of Flor de Cana, a massive cabinet of cigars as a centre piece, and all the ashtrays that you'll ever need.
Now, there are different types of tours that you can do, I opted for the grand tour which ended up costing around $15 and took about 1.5 – 2 hours to fully complete. One of the included things that you do on this tour is roll your own smokeable cigar. I was able to roll two for myself (gifts for my brothers) for a couple of dollars more. Definetly worth it. The hardest part was not breaking those cigars for the month of travelling I still had left.
It should be noted that I don't smoke cigars, but was still fully enthralled by the tour. It is a great learning experience and it's interesting to see how it's all created.
Subscribe To Our Mailing List
Get updates and learn how to party
Basically, the tour consists of you walking through the factory learning everything there is to know about the leaf used in the cigar, how it's dried, which parts are used, how they are used, what happens to the scraps, essentially everything there is to know about the cigar rolling process. Throughout this, you do a two stage process of rolling your own cigar, (that you'll get to smoke at the end) and get an incredible view of all of Granada, the volcanos surrounding, and the lake. You'll also learn about the history of Mombacho Cigars.
One of the things I found most interesting was the storage place they had for the cigars waiting to be packed and shipped, there were literal thousands of individual cigars. Each cigar is tracked with the names of the people who worked on them, the dates, where the leaf is from, etc. This information is also placed on the box they eventually sell. The level of QC is insane.
I'm sure this should go without saying, but you should be okay with cigar smoke during the whole duration of your tour. The employees are allowed to smoke cigars while they work, so there is smoke throughout.
More In Granada, Nicaragua
Information That Won't Go Up In Smoke
Let's break it all down for ya:
Daily tours on weekdays
 Tour is offered multiple times a day
Costs around $15
There's a bar with great local rum
You can roll more than one cigar for an extra charge
The AC in the smoke room is great
The view is incredible
Gotta be able to handle constant cigar smoke
Extremely nice and welcoming staff
Did You Pass The Roll Test?
That is a legitimate question. One of mine passed and the other one failed. So, I guess one of my brothers got to experience a worse smoke. Did yours pass? I had no idea what I was doing so I'm surprised it even kept.
Subscribe To Our Mailing List
Get updates and learn how to party