The Treehouse Jungle Rave Granada: Everything You Need to Know
If you're in Granada Nicaragua, you must've heard about the legendary weekly Treehouse Jungle Rave. It is one of the most unique raves that you can go to in your travels throughout Central America. This weekly party located just outside the city should be right near the top of your to-do list. 
It's something that people come from everywhere in Central America to attend. The Treehouse Hostel hosts a massive rave in their literal treehouse every Friday, and every time it is an absolute blast. Round trip transportation from Granada and a shirt come with a low entry fee of $20. You also get a discount if you are already staying at the hostel. The views from this hostel are uncomparable and I really recommend taking the early shuttle to get the sunset. Also, don't forget to bring some extra cash for a tattoo and some hidden liquid acid that may or may not be behind the bar. Don't tell them we told you…
Did I mention that you can also stay at this party place? Cause it's also a top-rated hostel on its off days.
Subscribe To Our Mailing List
Get updates and learn how to party
What Is The Treehouse Jungle Rave?
The venue (also hostel) is situated 200m high on the side of Mombacho Volcano sits this incredible jungle hostel. Surrounded by howler monkeys, multiple zip-lines,  a 60-meter canopy suspension bridge, jungle swing, big elevated jungle hammock.
 How does that sound to party in? It's all yours for only $15. Including a shirt and transportation. If you stay at the hostel, it's even cheaper. You can buy tickets when you get there. There's no need to pre-purchase. 
This Jungle Rave is full of backpackers looking to go all out on their Friday night. They have enough drinks and food behind the bar to give hundreds of backpackers everything they need. Once you're nice and tanked, it's time to go get some free face paint and a fresh new tattoo for you to rep while you dance until 4 am, at the earliest. This party has been known to last until you see the sun again.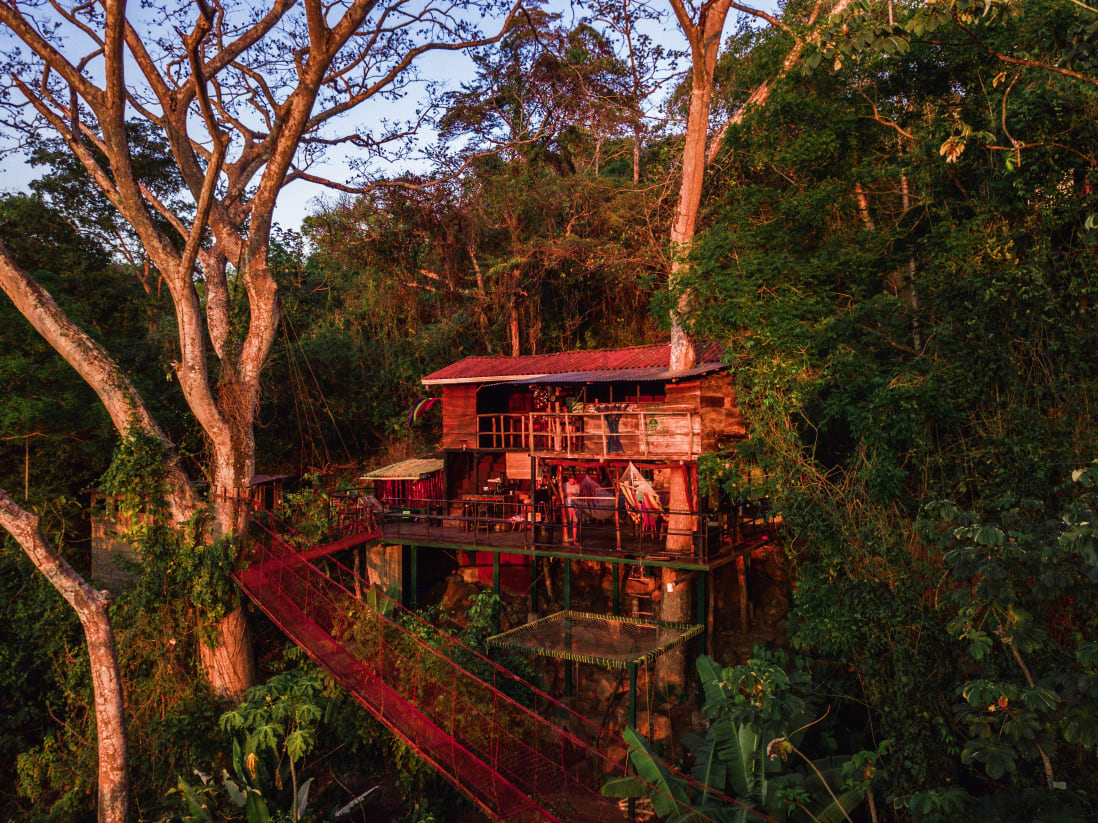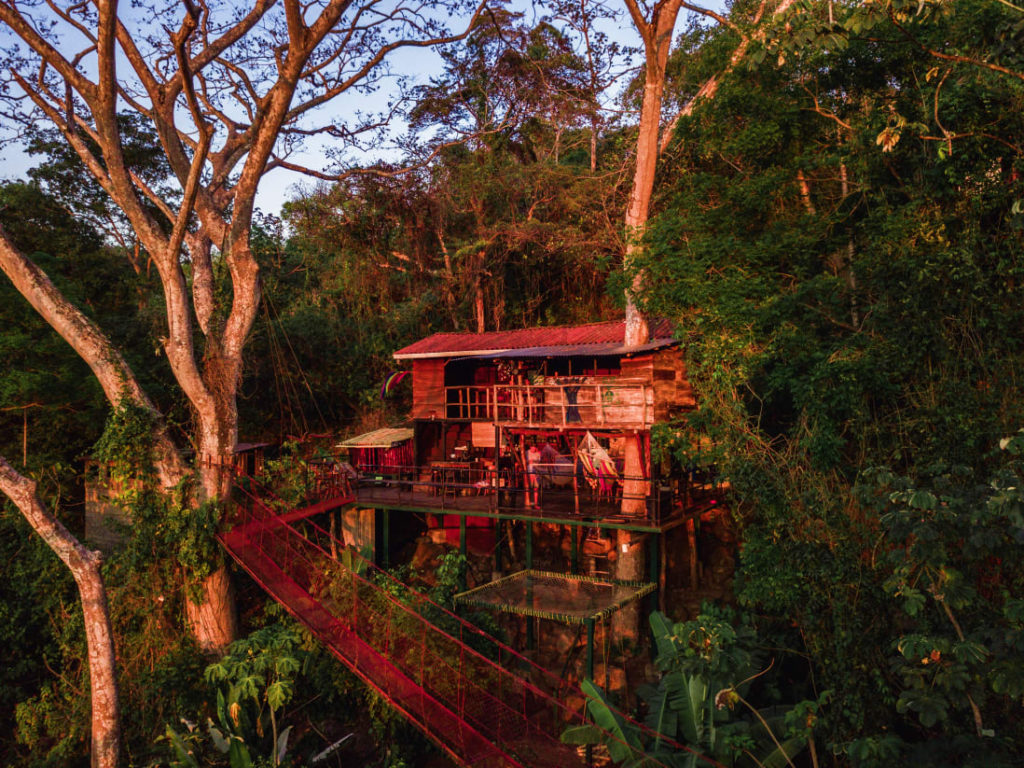 Where Is The Treehouse Jungle Rave?
The Treehouse Hostel is located just outside of Granada, Nicaragua. You can stay at the hostel, or take a free shuttle from the centre of Granada to get there and back. If you want, most taxis will know what you're talking about but it will cost you around $5. There are usually taxis waiting and eager to bring you back. 
The shuttle services leave from The Townhouse at 4pm, 6pm, and 8pm and it's in the back of a pickup truck, like in the box of it. When I went, I was jammed in there with 13 other people, it was great! Except when he slammed on the brakes. The return shuttle is midnight, 2am, and 4am.
Don't worry, when your ride takes a hard left onto a dirt road and keeps driving for another 20 minutes, your own the right track. Oh, and when the car stops, you still have a 10-minute hike straight up to get to the hostel. It's well worth it though.
More In Granada, Nicaragua
When Is The Treehouse Jungle Rave?
This party happens every Friday, almost without fail. There are also a couple of other parties that happen at this hostel every year, such as the owner's birthday and their yearly Tree Fest. 
The first shuttle is at 4pm but the party isn't quite going yet. This is mostly so you can see the sunset and get a little pre-drink going. The party doesn't really start until the 8pm shuttle comes. Finally, it takes off once the final shuttle has landed. Be ready.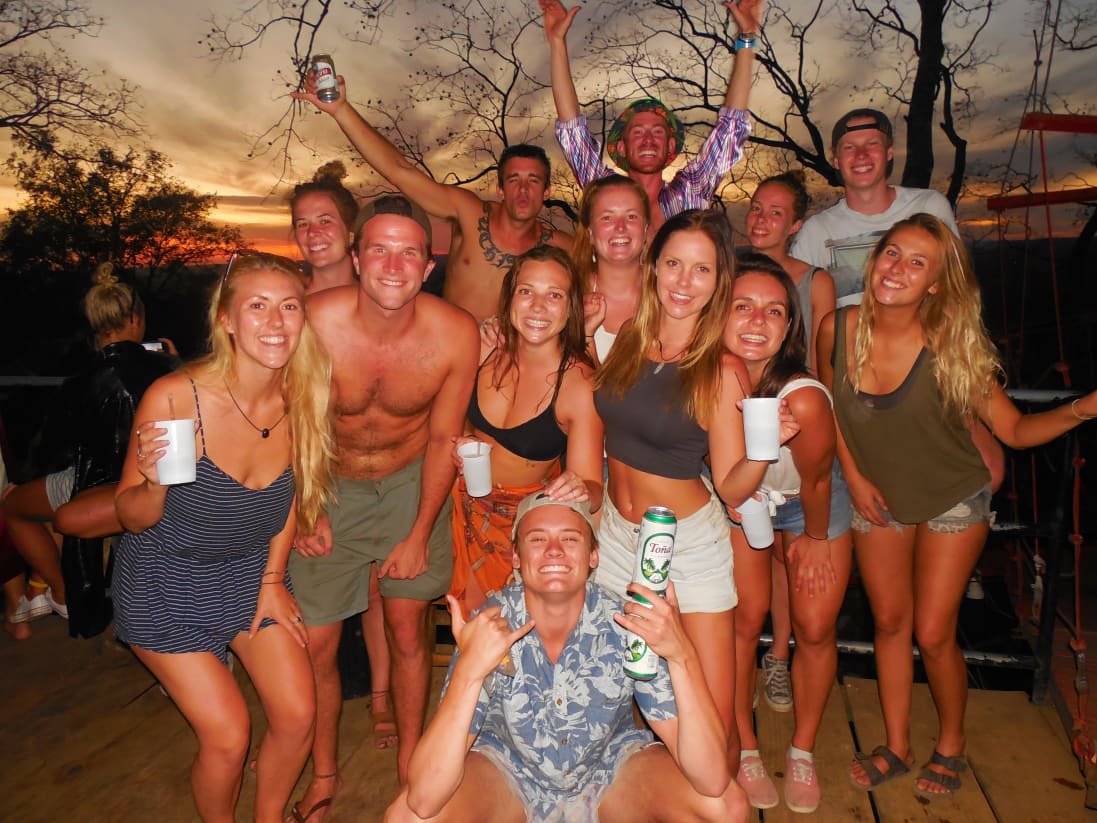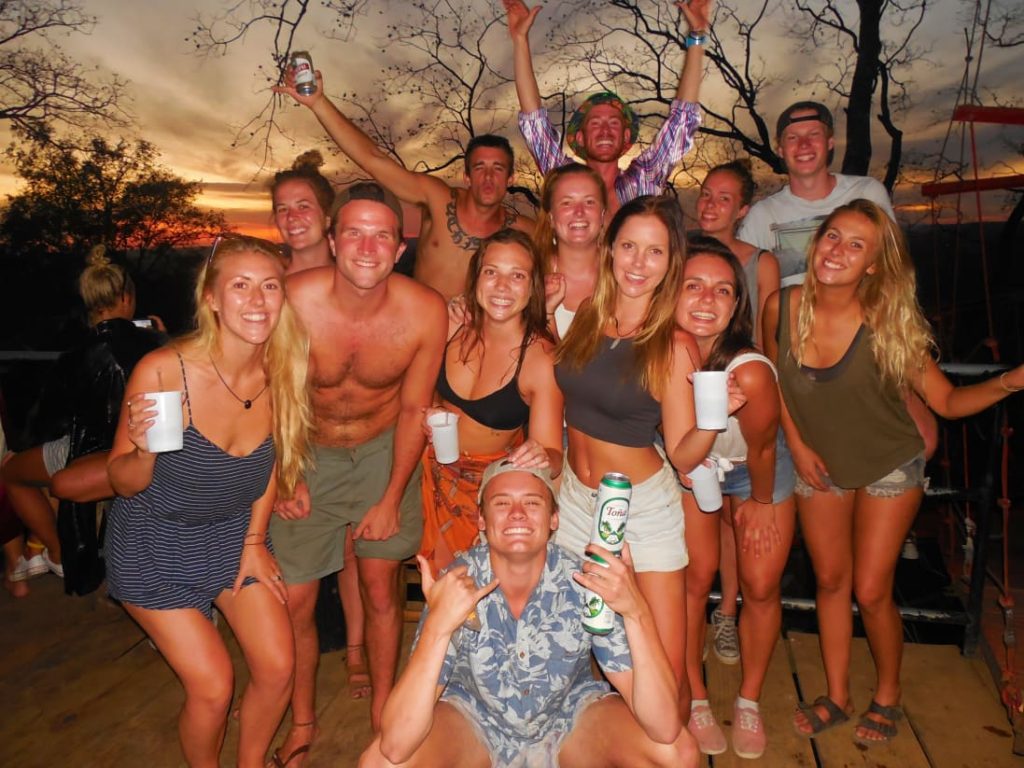 This party is pretty straightforward, but we'll give you an itinerary anyways!
Go Time – Shuttle 1 – 4:00 PM | Shuttle 2 – 8:00 PM | Shuttle 3 – 10:00 PM
Departs From The Townhouse Hostel
Get over to The Townhouse Hostel and start mingling with people. Grab a beer and get acquainted with the people around you cause you're about to be jammed in the box of a pickup truck with all of them for 30 minutes.
Legend has it, if you take the two later shuttles, you'll get free shots from Townhouse to hype you up. So, you're going to have to decide between free shots or an insane sunset.
Party Begins – 9:00 PM
The party typically really starts going around 9pm. This has given the early shuttlers time to pre-drink and take shots and gain all of the energy from the people arriving from the 8pm shuttle. The people coming on the last shuttle are in for an awesome full momentum party once they arrive.
Leave Time – Shuttle 1 –  Midnight | Shuttle 2 – 2:00 AM | Shuttle 3 – 4:00 AM
Departs From The Treehouse Hostel
Honestly, the party doesn't really die down and continues well into the morning. Judge for yourself if which shuttle you think you should take. Are you crazy enough to take the shuttle at 11am the next day? Only some can say they truly beat the Jungle Rave.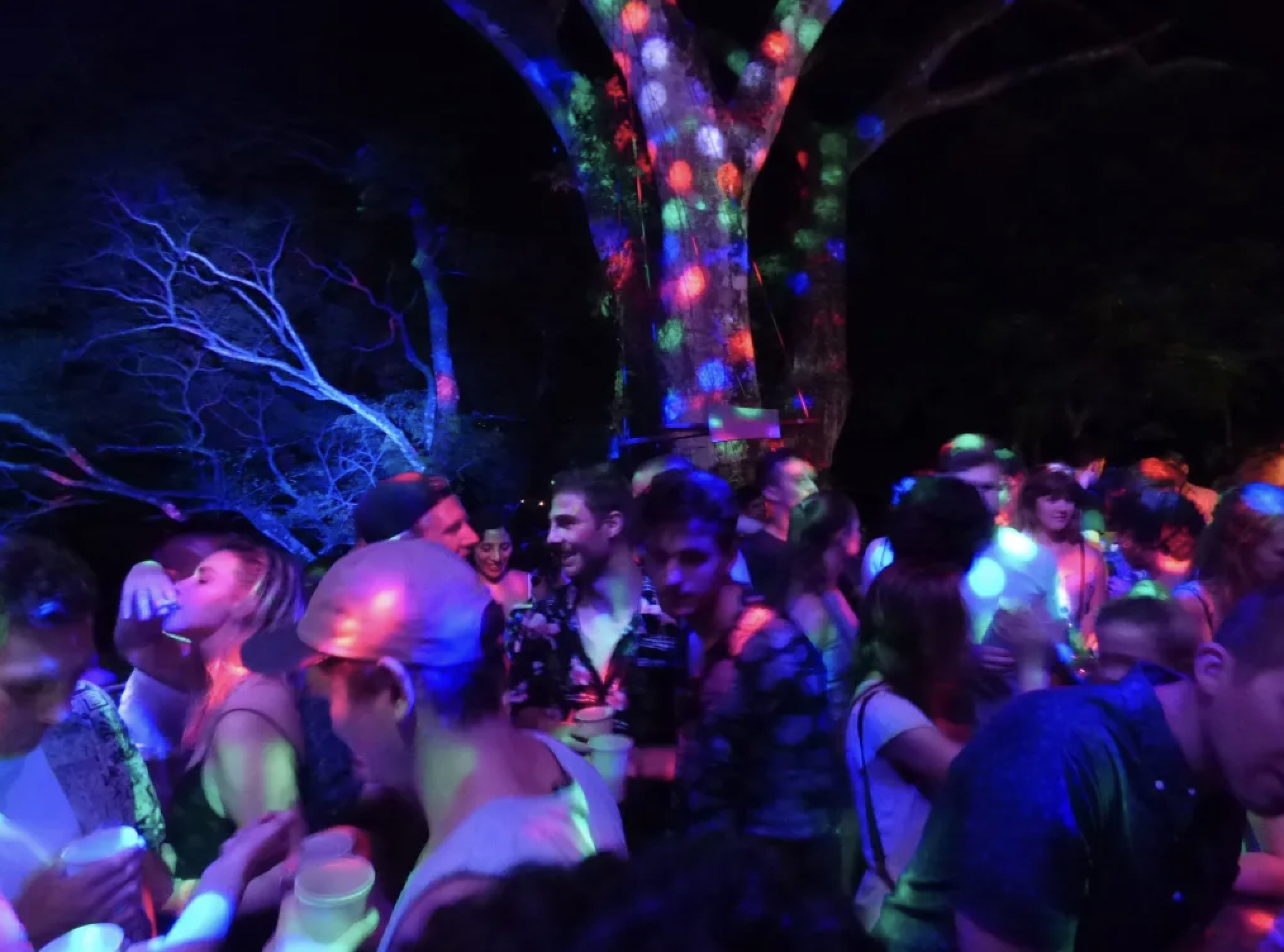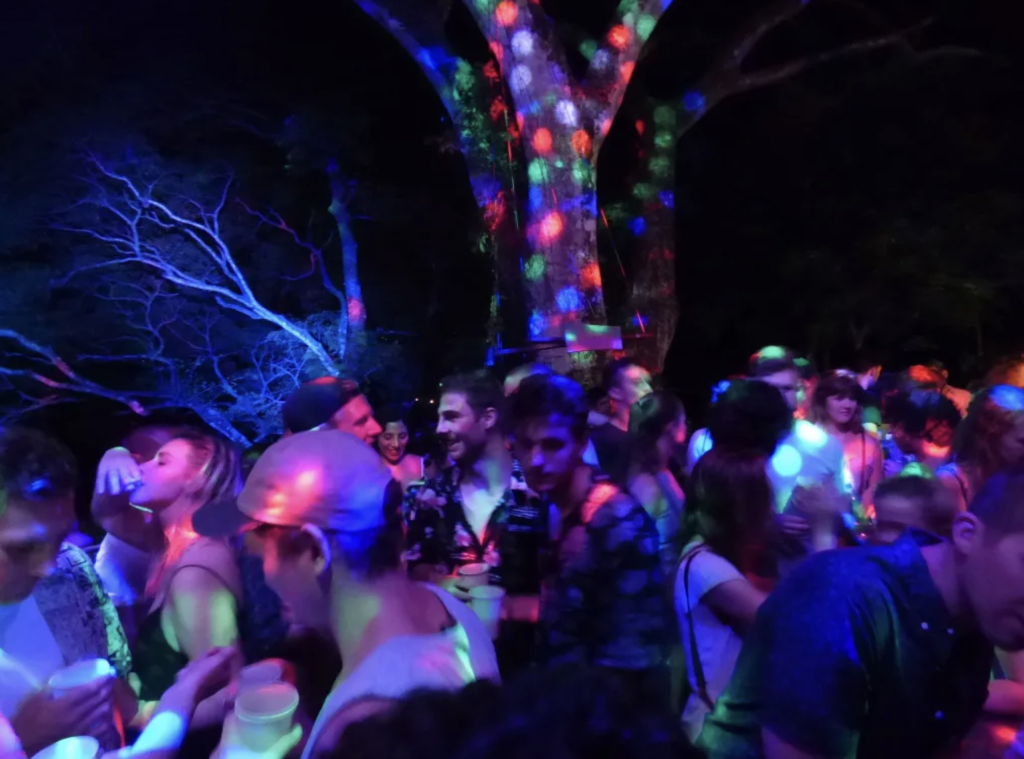 I don't like reading, so let's make things easier for myself next time I go:
Standard Price: $15 USD
Discount Price: Hostel Guests Get Discount
What's Included: Entry, Shirt, and Transportation
Dates: Every Friday
Times: 4:00pm – 4:00am
Shuttle Times: 

Depart From Townhouse: 4pm, 8pm, 9pm
Depart From Treehouse: Midnight, 2am, 4am

Best Local Party Hostel: The Treehouse Hostel 
After Party: No
Does it Sell Out: No
How to Get Tickets: Onsite – No need to buy in advance
What to Bring: Cash, Bug Spray
What not to Bring: Booze, Drugs, or a Dickhead Attitude
Do You Get Wet: No
Is there Food and Drink available: Yes
What Should You Not Do: Get A Boring Tattoo. Come on, you're at a jungle rave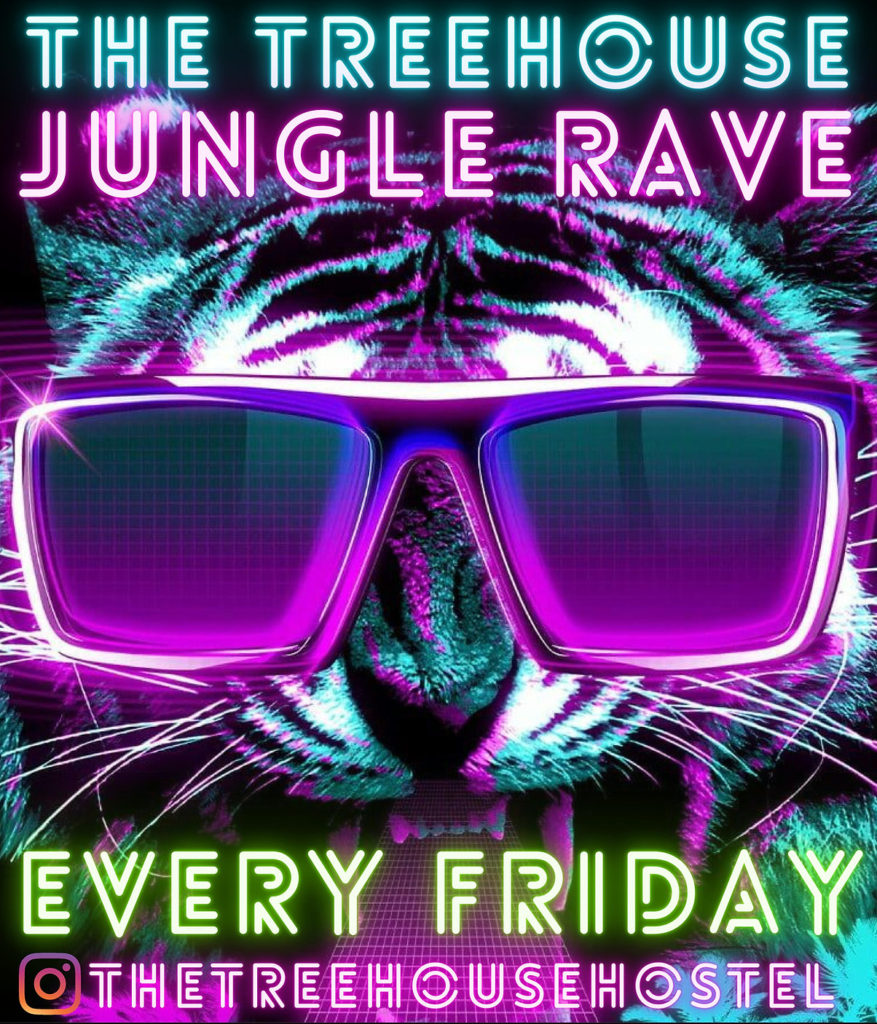 Show us the tattoo you got and we will buy you a drink, that's the easiest free drink you'll ever get. Let us know! These types of parties change all the time, and as much as we'd like to, we can't be there every time. Your help helps us help you.
Oh and if you have any wild and debaucherous stories from your Jungle Rave experience? Share your story for your chance to get featured, and maybe even win a prize…
Subscribe To Our Mailing List
Get updates and learn how to party