Booze Cruise Granada, Nicaragua: Everything You Need To Know
This incredible Booze Cruise takes place weekly in Granada, Nicaragua. That's NICARAGUA, not SPAIN. Our ancestors really could've been nice and not called cities the same name. They should've expected it to get confusing once the internet came around.
Anyways, this cruise full of booze is great, and surprisingly cheap considering what's included. That means transportation, and big awesome waterslide-having boat and 5 rum drinks are all yours for the small price of $15 USD. 
You get to sail around all those crazy 365 islets that everyone talks about, see the sunset (kind of), then boogie down on a beach with your new best friends and a hot dog filled to the brim with pico de gallo.
I'm pretty sure this event took a big makeover recently as most of the information and pictures I can find are not what I did. Guess National Litographic is the most up-to-date!
Here's a video that we can't embed for some reason. Perhaps because Facebook is satan, or maybe because I'm technologically inept. 
Subscribe To Our Mailing List
Get updates and learn how to party
What Is The Booze Cruise In Granada?
This Booze Cruise is put on by the Oasis Hostel in Granada. They provide you with everything you need for your big night out. For $15 USD you receive transportation from Oasis Hostel to the boat, 5 rum drinks throughout your time partying, the boat cruise throughout the 365 islets, a beach party, then finally transportation back into the heart of Granada.
Let it be known, this is how your five rum drinks work, as I was very confused when I went. You get one at the start before you leave Oasis, then 3 on the boat, and one pre-mixed shot at the beach party. And when we say rum drinks, we mean rum drinks. You can't substitute it out for beer or vodka or anything else. Only rum.
You may have noticed that I keep calling it a beach party, but if you see an ad for this booze cruise you'll see that it say island party. They call it an island party but my drunkenness noticed that we never went on a boat again to get home at the end of the night so that doesn't sound like an island to me. I still have no idea where we were though.
This boat though, this boat is unreal. This boat is equipped with a bar, bathrooms, bedrooms (not for you), a hot tub, a waterslide, and a designated jump-off point. At one point during the trip, you stop so you can enjoy the water while the sun is still up. This is when you can jump in and splash around to your little heart's desire. They also give you floating cupholders so that you can bring your drinks with you. Try not to get left behind at this point.
Once the sun has set, the beach party starts with a DJ, food, and of course more bar. There are a few departure times for the shuttle going back to Granada. Unfortunately, I can't remember exactly what the times are but I think that the last one is at midnight. Don't take my word for it though, they were literally waiting for me so that they can leave. I guess they didn't want anyone sleeping on the beach that night.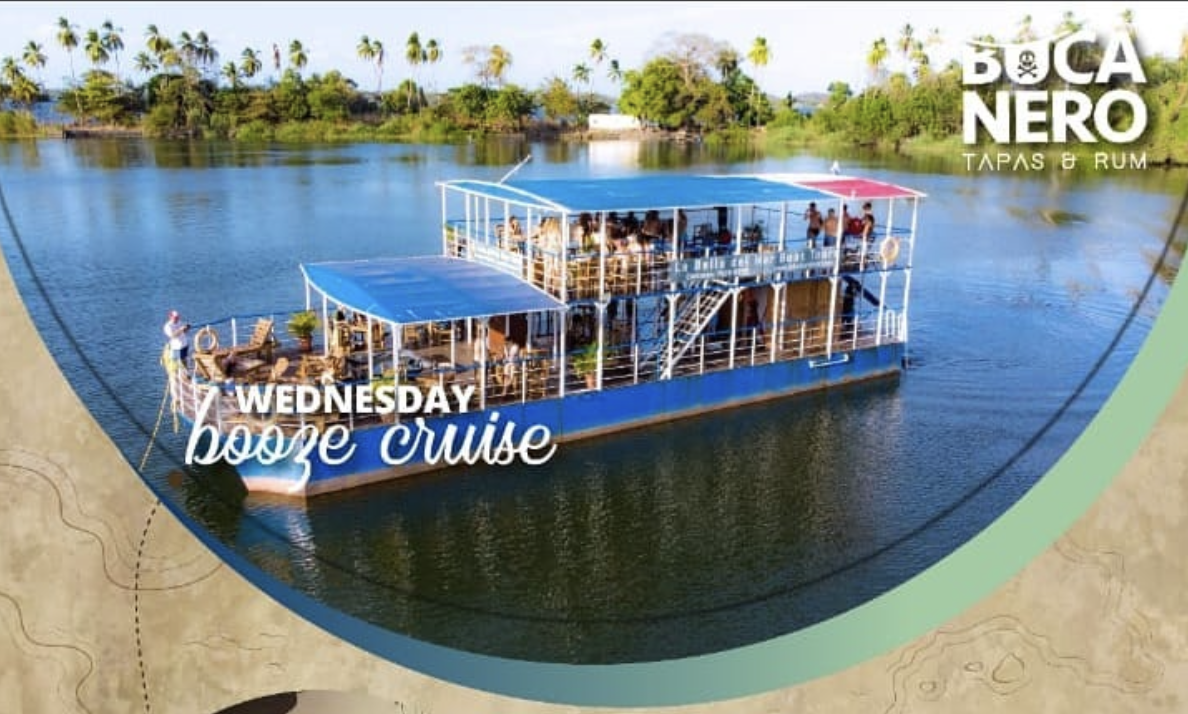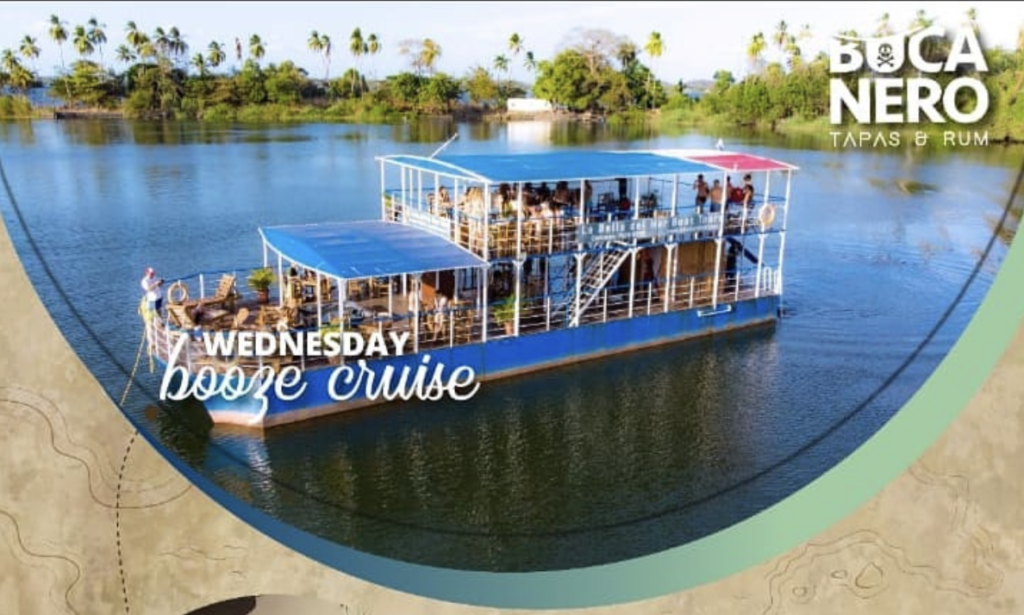 Where Is The Booze Cruise In Granada?
Once again, THIS IS NOT IN SPAIN. Although both Granadas may speak the same language, they are definitely not the same place.
Granada, Nicaragua is right next to Lake Nicaragua. This lake is massive and Granada is around the northwest part of it. This place is great and has lots of party events, like The Treehouse Jungle Rave, and plenty of things to do, like the cigar tour at Mombacho.
There are plenty of hostels you can find right in the heart of the city such as Selina Granada, Oasis, and The Townhouse. All of these hostels will have information on the booze cruise as it is a city-wide event that brings everyone together. Don't worry, your hostel will help you get drunk! There's no need to buy in advance, I'm almost 100% positive that this can't sell out. Just buy from your hostel! Or if you can't buy directly from them, let them direct you to where you can.
More In Granada, Nicaragua
When Is The Booze Cruise In Granada?
This Booze Cruise happens every Wednesday. I really hope they don't change it after I post this or else that'll be very embarrassing. If they do change it, let us know!
It starts at 4pm and the last shuttle leaves back to Granada at midnight.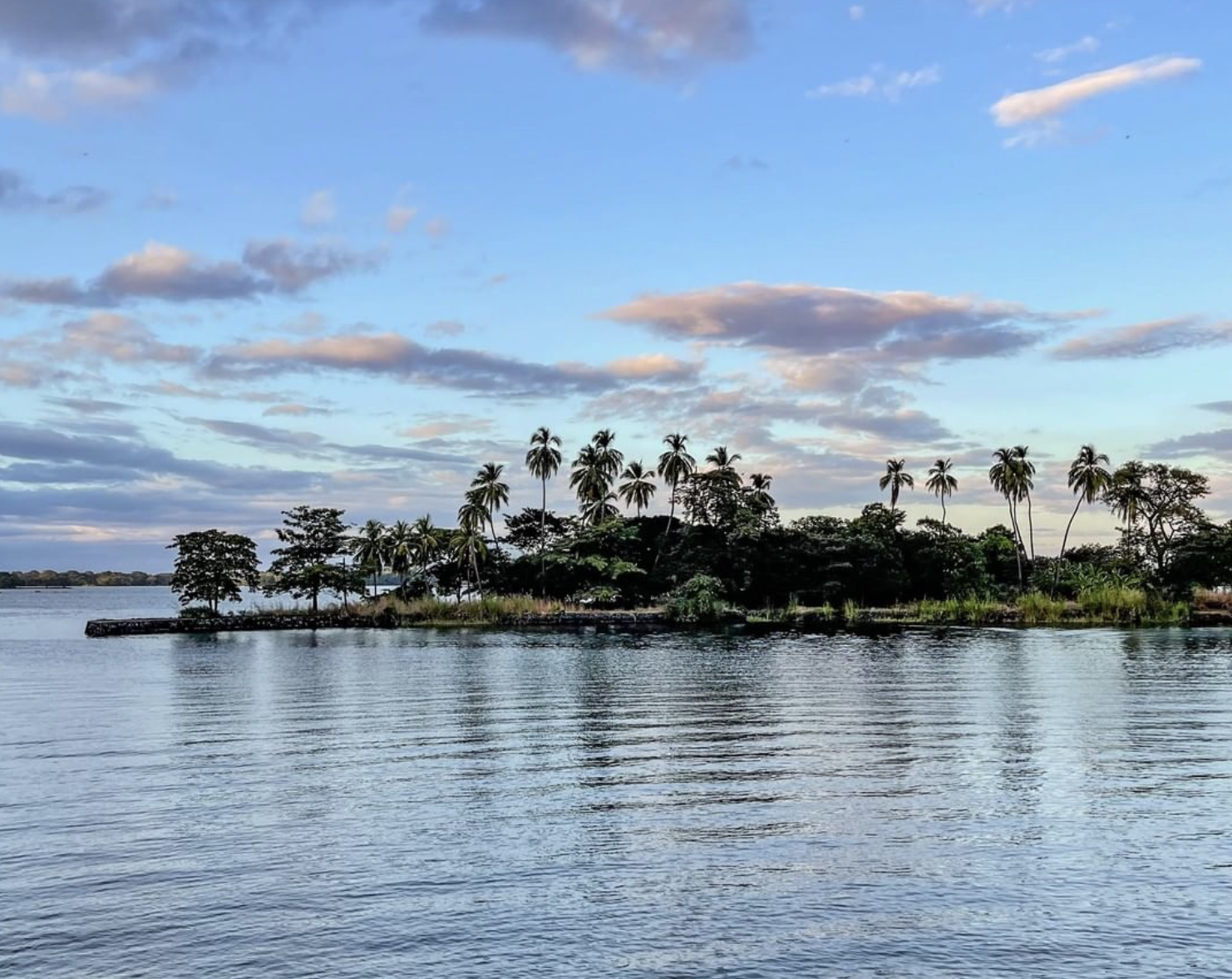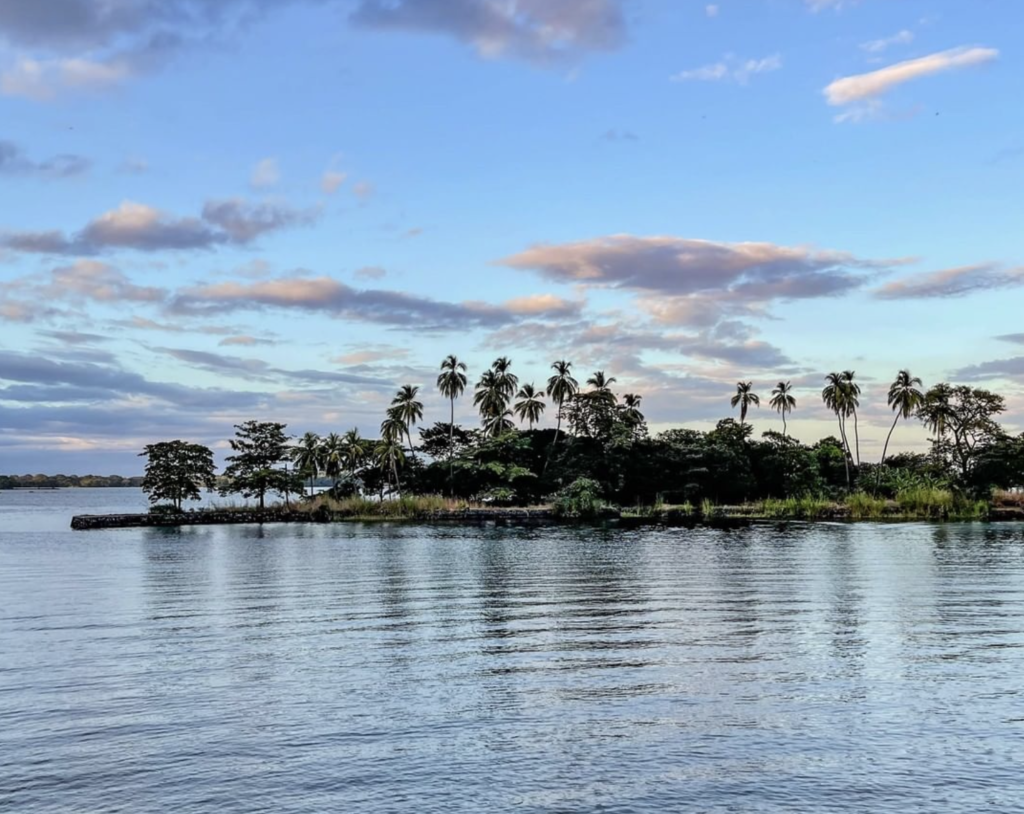 This isn't exactly a party event that needs an itinerary, but let's do one anyway!
4:00 PM – 1st Rum Drink
You go from the hostel you're staying at to the hostel where everyone going on the booze cruise is gathering at, and get your first rum drink. Well, hopefully not your first but you get what I mean.
Down your drink as fast as you can cause it's time to rock a shuttle to get to the boat. Honestly, if you're still there at 4:15 the group has probably already left.
4:30 PM – Board the Boat – 2nd to 4th Rum Drink
Get on the boat and start partying. Go in the hot tub, jump off the top, do whatever you feel like until the sunsets. Don't forget to drink at least three rum drinks so you don't lose out on 'em!
7:00 PM – Beach Party – 5th and Final Rum Drink
From the big boat, take a little boat to the "island party". Grab your pre-mixed rum shot and go and do whatever you want. There's a bar, some food, a DJ, and a firepit. Have fun! Just don't fall into the fire or the ocean, but if you do, at least make sure you do it in that order.
8:00 PM, 10:00 PM, 12:00 Midnight – Shuttles, Shuttles, Shuttles
Okay, now you can choose which shuttle you want to go home with. Make sure to check with someone who knows what they're doing as these times may change from the time of writing.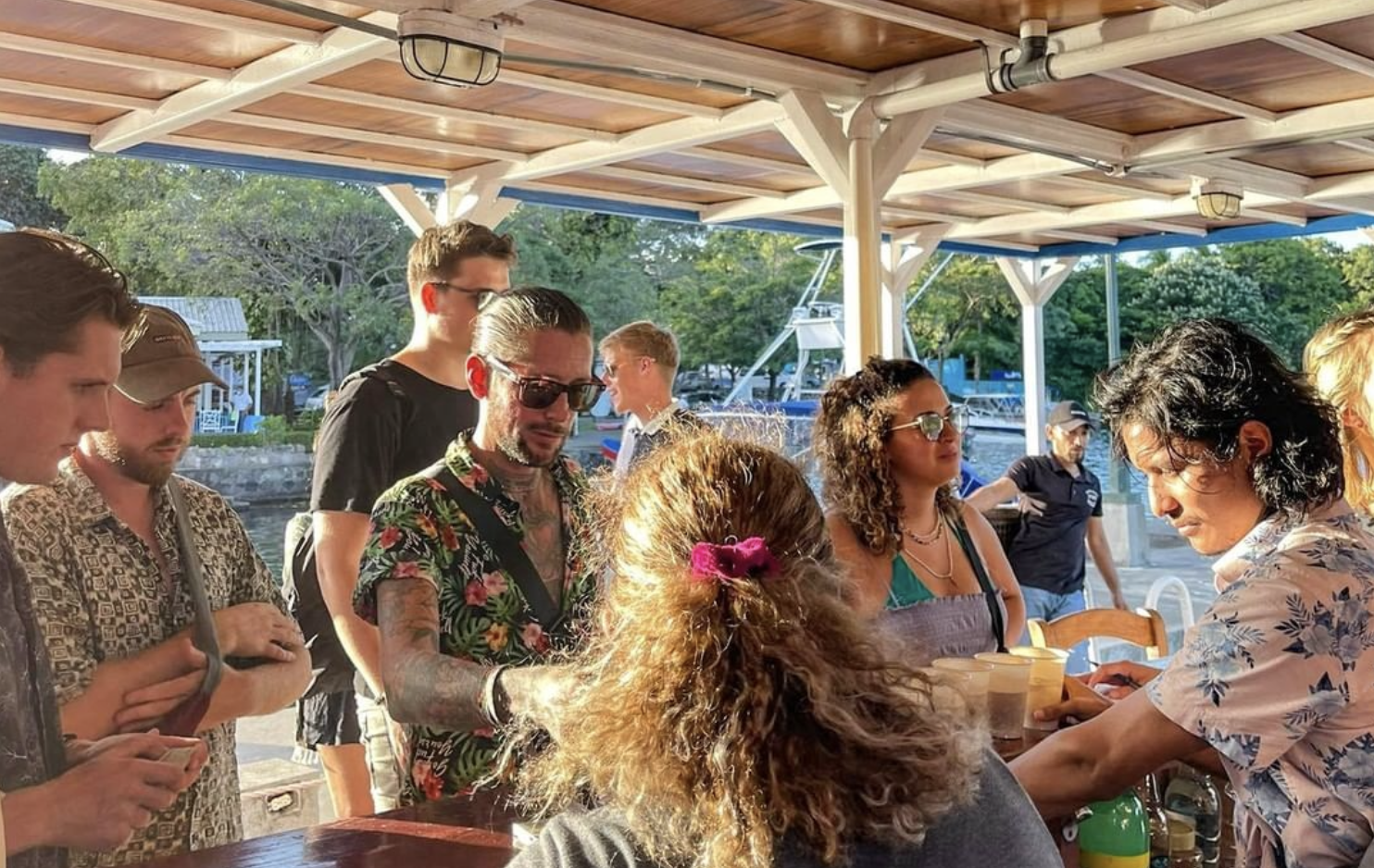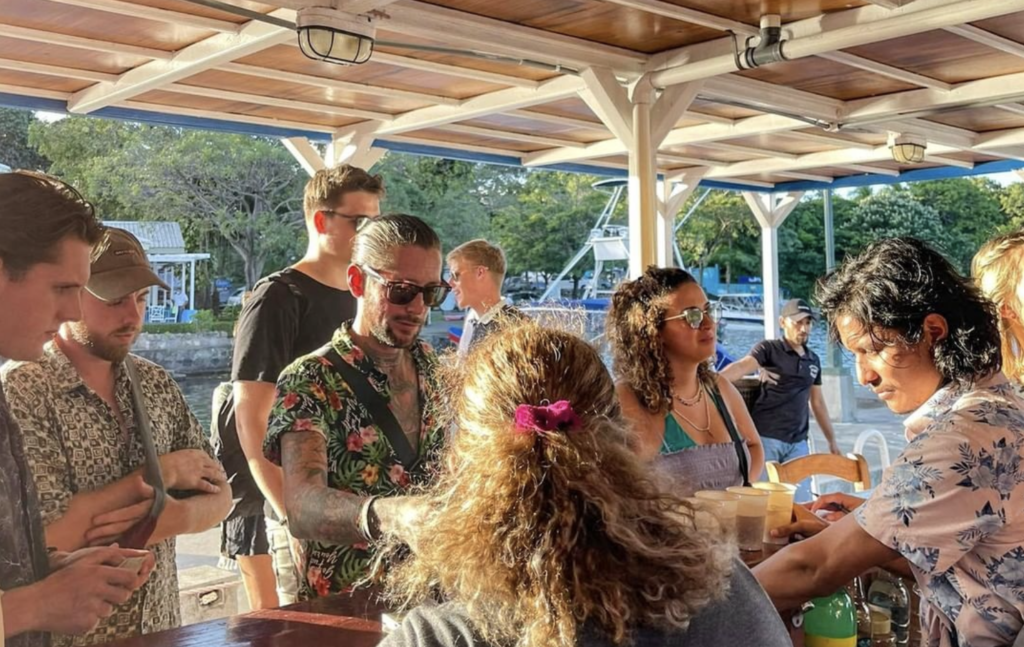 I, like all of you, hate reading entire articles so let's make this easy:
Standard Price: $15 USD
Dates: Every Wednesday
Times: 4:00 PM – 12:00 Midnight
Best Local Party Hostel: Oasis Hostel 
After Party: No
Does it Sell Out: Nahh, that boat is big
How to Get Tickets: In-person at your hostel or theirs
What to Bring: Bathing Suit, Cash, sunscreen, sandals, sunglasses
What not to Bring: Probably things you don't want to accidentally get wet
Do You Get Wet: I mean, Booze Cruise plus hot tub
Is there Food and Drink available: Yes
What Should You Not Do: Suck at backflipping off a big boat
How Much Booze Did You Cruise?
I know we're the best and never miss anything or misinform anyone, but if we did in this case, let us know! 
Send us the video of you doing a gnarly jump off the boat, or failing completely. Either way, we wanna see it. Share your story for your chance to get featured, and maybe even win a prize…
Subscribe To Our Mailing List
Get updates and learn how to party