Sunday Funday San Juan del Sur: Everything You Need to Know
Do you like partying? Yes, you do. Do you like pools? Obviously. Do you like a lot of both for an entire day and night? Duh, why else would you be on this site. Well, I have some much-heeded advice for you.
Go to Sunday Funday in San Juan del Sur, Nicaragua.
We're here to give you all the information you need to know so you don't have to go in blind and screw up! We made mistakes so that you don't have to.
We at National Litographic are here to take care of you drunken idiots. Cause who knows you better than fellow drunken idiots?
Okay, that's enough questions marks for one intro.
What Is Sunday Funday San Juan?
Sunday Funday in San Juan del Sur is a massive day-long, pool crawl. If you're a part of this legendary Central America renowned party you will start partying at noon, and essentially stop when you can't stand anymore. If you make it to one of the last people standing, you deserve a medal. Throughout the day, you'll visit 4 different places (mostly hostels) with bars, pools, and DJs. 
The price of admission is $25 and that includes transportation and one of their unique Sunday Funday shirts. They change frequently so if you see someone with the same shirt in the future, there's a decent chance you were at the same party!
As with most of these party crawls, there's always someone roaming around the party with a liquor mix-filled bottle pouring shots in people's mouths.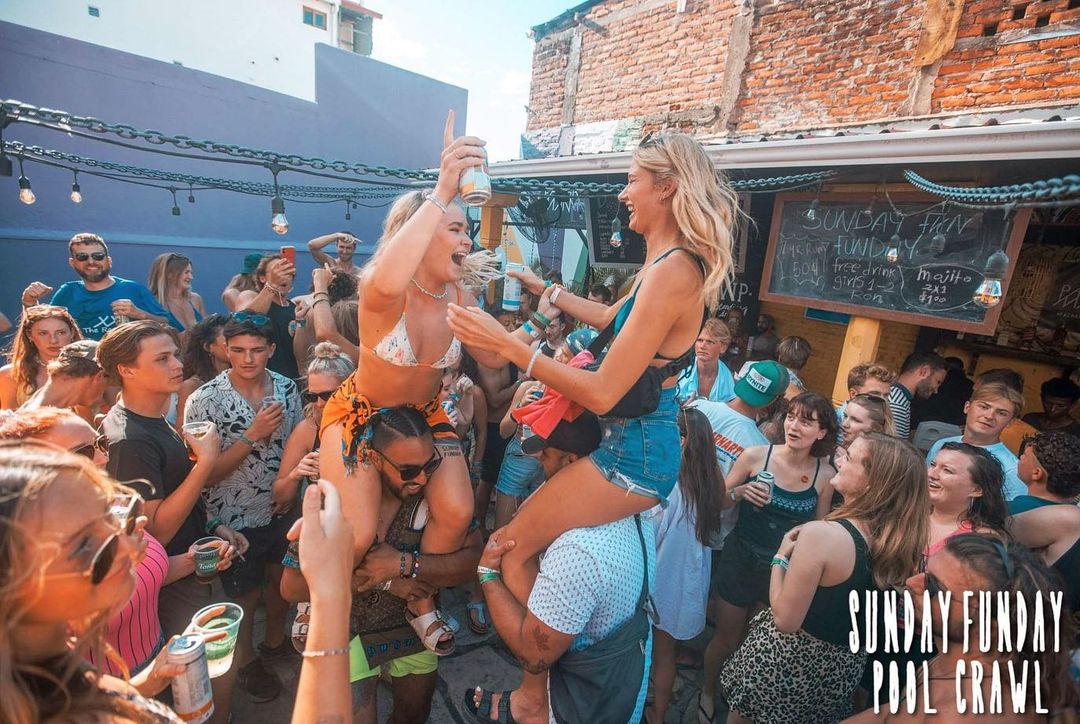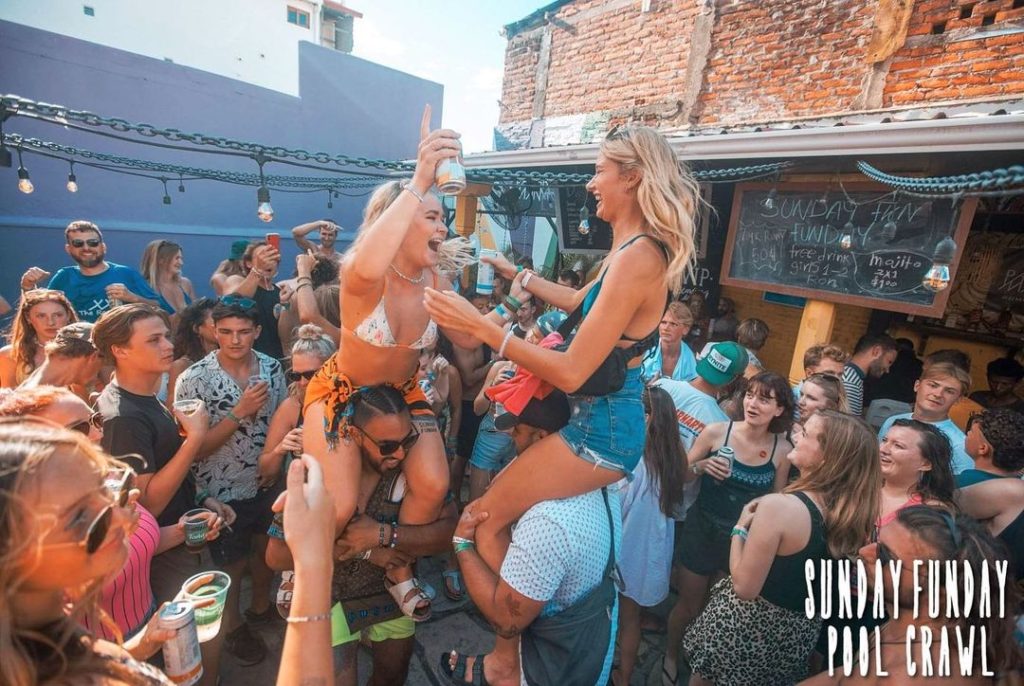 Where Is Sunday Funday San Juan?
Ever heard of San Juan del Sur? Every heard of Nicaragua? If you answered no to both of these questions, we honestly can't blame you. However, now that you know this country exists, you have to visit. This party takes place in a small surf town near the south of the country (close to Costa Rica) on the Pacific side. In fact, San Juan is one of the closest cities to the border. Be warned, this city is addicting. Once you go you may never leave.
San Juan del Sur is known for its surfing, partying, and a weird amount of Canadians. Trust me, I'm Canadian and I was surprised at how many Canadians there were. The starting point for this crawl is at the biggest party hostel in the city, Pachamama. Here is where you can buy tickets and pick up your shirt. 
Ticket sales start the morning of the party or you can purchase them in advance. There's a slight discount if you purchase in advance. You can also get a discount if you stay at Pachamama for a minimum of 3 nights. Just a heads up, this hostel sells out far in advance on the weekends. So even though we discourage a lot of planning on backpacking trips, this might be an exception.
More In San Juan del Sur, Nicaragua
When Is Sunday Funday San Juan?
I like to think that our readers are all incredibly intelligent, so I'm sure you can take a guess when this pool crawl takes place. Every Sunday.
This party starts and noon and goes on until you can't take it anymore. Good luck.
At the time of writing this, Sunday Funday has been going through some venue changes so we won't be including the actual destinations.
Part 1 – Before 12:00 AM – Buy Tickets & Get Shirt
This is your time to get your tickets, get your shirt, and prep the rest of your day. Eat a big breakfast, figure out how to not get your money and your phone wet while at the pool, and do some push-ups so you look more fit than you actually are. Get that blood pumping
Part 2 – 12:00 Noon – Pachamama
It really is a 0 – 100 situation. I was there at 11:30am and nothing was going on. I decided to go grab my sunnies from my hostel and got back around 12:15 and it was full-blown partying. Beer pong games, massive Jenga, tattoos, everything you'd expect at a party at midnight, but only 12 hours earlier.
Part 3 – 3:30 PM – Walk to New Place | Probably Hotel Anamar
Around this time you get corralled into a big group, a few hundred strong and you walk to your next destination. I won't name the venue but it's close by, has a pool, and a bar.
This place was slightly more expensive for drinks.
Subscribe To Our Mailing List
Get updates and learn how to party
Part 4 – 6:30 PM – Drive to New Place | Probably Naked Tiger or The Space
The next place you go to is usually outside the city, so you get herded onto a standard school decked out in the usual Nicaraguan fashion and driven 10 – 20 minutes to the next place to party. From my experience, there was one bus so it had to take multiple trips.
My suggestion is to get on the first ride out of there, as the party dies down significantly once people realize it's time to go and start lining up to leave.
This place will have food!
Part 5 – 9:30 PM til Forever – Arriba
Finally, you come back to town via rowdy chicken bus and placed directed into a club where you'll spend the rest of your evening. This place won't shut down until everyone is gone so there isn't really a time this party technically finishes. Just go until you can't dance anymore, then keep going, then go hangout on the beach for a bit, then come back refreshed and keep going. People usually go back to Pachamama as well, but it'll be fairly tame there.
Friday Pachamama Beer Pong Tournament 
This tourney happens every Friday. It costs $2 to enter and it is partner beer pong, so basically $1 each. Plus whatever your drink of choice is. You always have to have a drink in your hands while playing. Remember to have a team name in mind!
There are official rules at the hostel, so be sure to check them out before playing to make sure you know the rules. They may not be the same as the ones you're used to.
Whichever team wins this competition scores themselves two free tickets to the legendary party. The competition will be stiff though, so good luck!
Saturday Surf Town Beer Pong Tournament
Honestly, the exact same as we wrote above, so just refer to that!
Have you heard of any more?
Let us know if you know of any other ways to win free tickets!
Let's make things easy on you skim readers:
Standard Price: $25 USD
Dates: Every Sunday
Times: 12:00 Noon – Whenever
Best Local Party Hostel: Pachamama Hostel
Website: Instagram
After Party: Yes
Does it Sell Out: Doubt it
What to Bring: Bathing Suit, Cash
What not to Bring: Booze or Drugs – unless you're super sneaky I guess? Or things that can't get wet
Do You Get Wet: It's a pool crawl, so yes. Keep that in mind
Is there Food and Drink available: Yes
What Should You Not Do: Ride on top of the chicken bus
How to Win Tickets: 

Friday – Pachamama Beer Pong Tourney
Saturday – Surf Town Beer Pong Tourney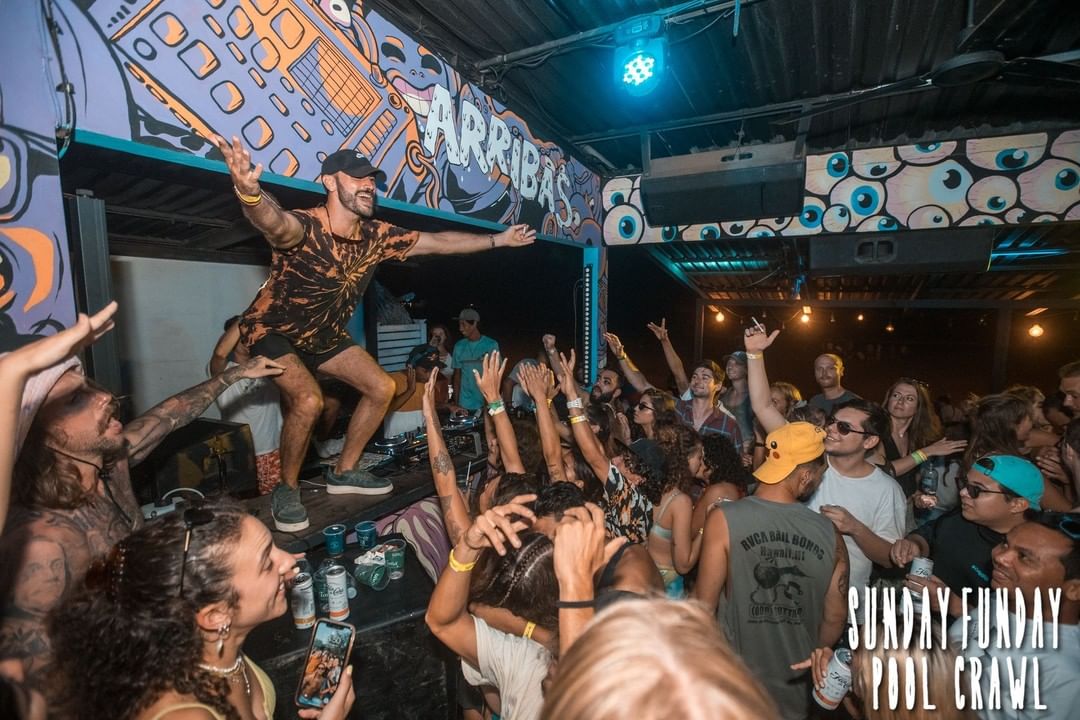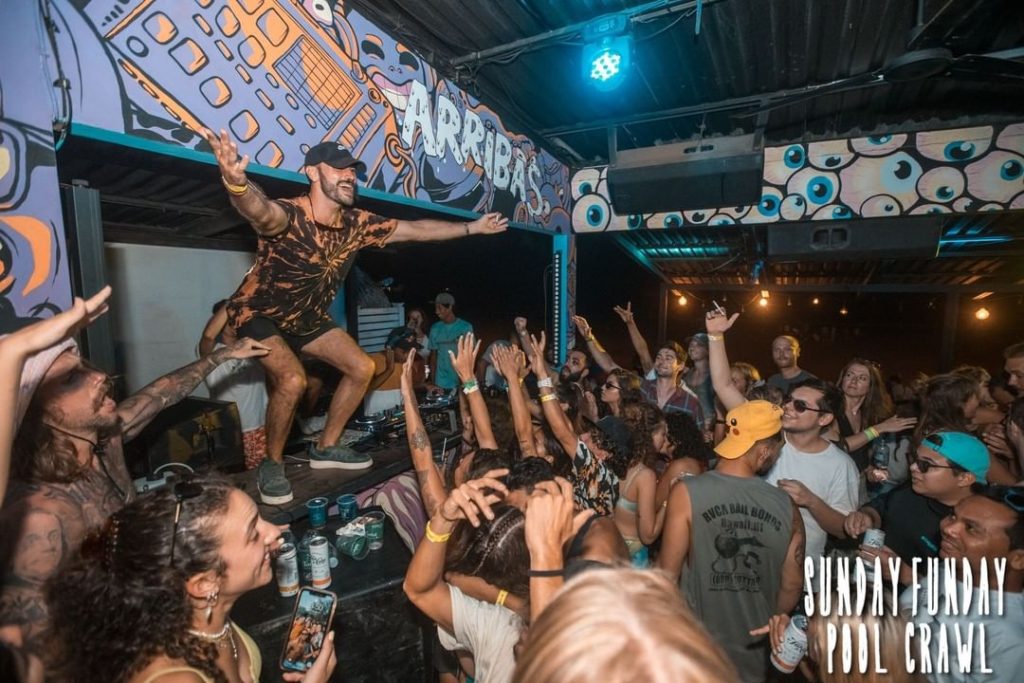 Did You Have a Funday on a Sunday?
Wait, did we miss any information that you think would've been useful to know? Let us know! These types of parties change all the time, and as much as we'd like to, we can be there every time. Your help helps us help you.
Oh and if you have any wild and debaucherous stories from your Sunday Funday experience? Share your story for your chance to get featured, and maybe even win a prize…
Subscribe To Our Mailing List
Get updates and learn how to party