Filthy Friday Bocas: Everything You Need to Know
We've mentioned the legendary Filthy Friday Bocas many times throughout our site, especially when talking about partying in Panama. So, it seemed appropriate to finally make an entire article about the event. We'll walk you through everything you need to know and what to expect when attending this must-do experience.
What Is Filthy Friday Bocas?
Filthy Friday Bocas is the party of the year (that happens every Friday) in Bocas del Toro. This island-hopping pub crawl takes place on three islands: Isla Colon, Solarte and Cerenero. It starts mid-day and takes you all the way to night. During the night, you can dance your hear out on the beach and enjoy the sights of a fire show. You can't visit Bocas del Toro and not check out Filthy Friday. So plan accordingly!
Filthy Friday is the largest party of its kind in Central America, even topping out a similar event held in San Juan del Sur in Nicaragua. Throughout the year, thousands of people are attracted to the tropical islands and revel in the craziness. The festival's activities include a boat ride between the islands, live music, DJ sets, free shots, amazing views, and a party T-shirt and string bag.
Also important to note there is a 500 person maximum so you may want to purchase your tickets online. Otherwise, you can buy them in person at Filthy Friday Bocas (which is right across the street from Selina Bocas del Toro). You can do so the day before as well as the morning of the event.
How much does this all cost? $40 USD. Keep in mind you'll have to buy drinks from the bars you go to as you are not allowed to bring your own. But don't worry they keep the prices relatively low compared to normal days. However, it's CASH ONLY.
Subscribe To Our Mailing List
Get updates and learn how to party
There is also a VIP package which costs about $75 I believe. Honestly, I didn't check because I'm a sleazy scumbag that does everything as dirt cheap as possible so I'm not into being a Very Important Person. Leave me in the trenches where I belong. However, if you want to be a VIP, you'll get:
Covered VIP Areas
Priority Boat Service

Bottle Service Menu

Personal Host

Private Security Guard

Beer Tab

Food Tab

Priority Dinner Service
The party begins on the first island, then continues to the second location, which is ten minutes by boat, then the final island is 10 minutes back, toward the initial island. It should be noted that the boats are the best part, in my opinion. Being hammered on a boat is great.
Oh, and if you're worried about getting stuck on one of the islands and not being able to bail, don't. It's super easy to flag down a water taxi if you need to and go back to wherever you want to go. Partying for 10 hours in the sun isn't always the easiest thing to do. You can always join back up later. The price of the water taxi will depend on your negotiating skills and destination.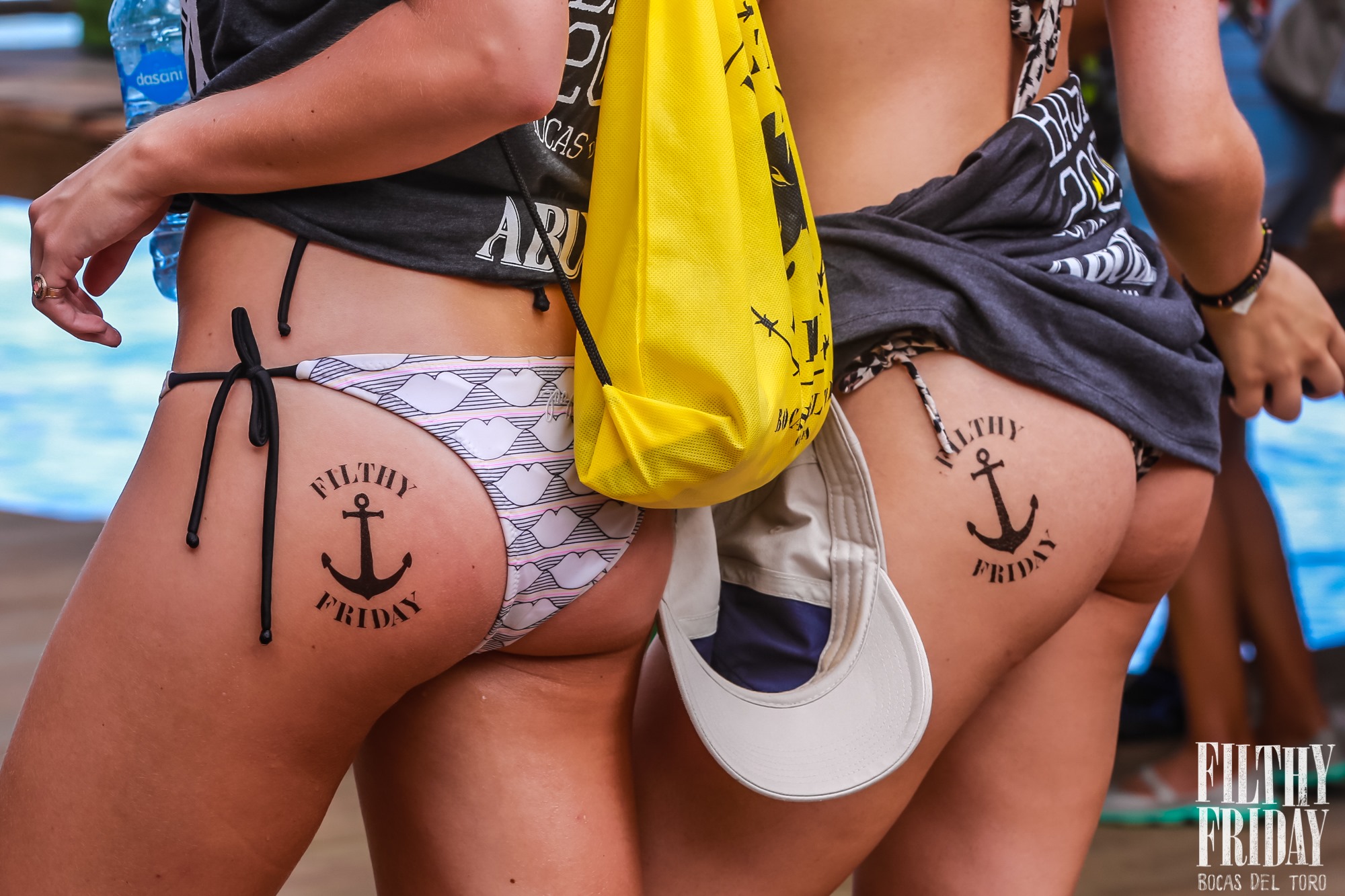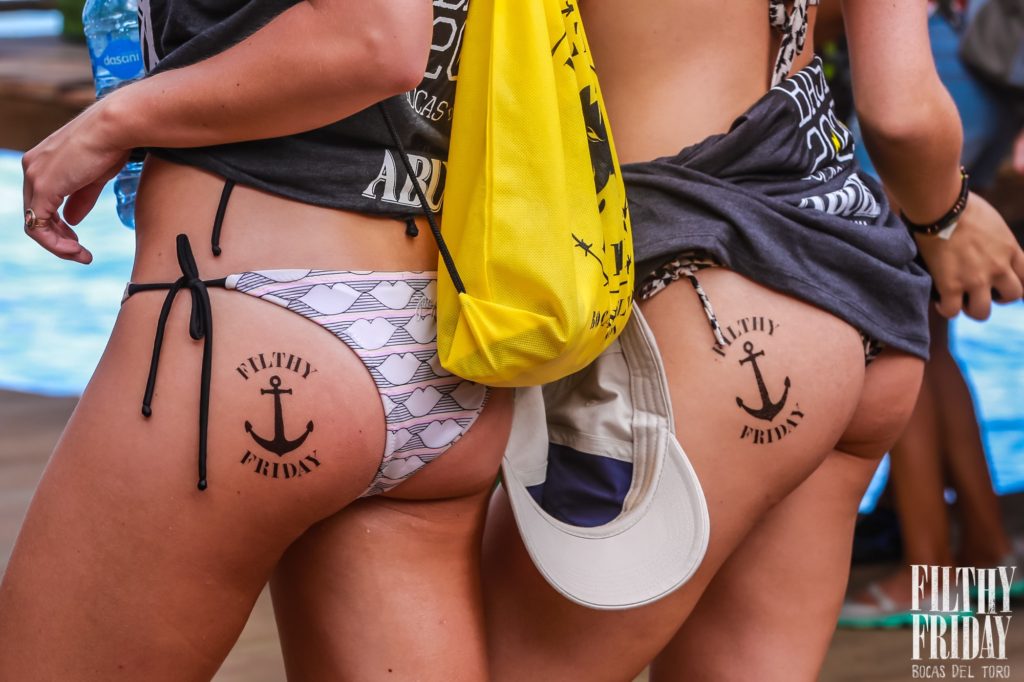 Where Is Filthy Friday Bocas?
The main island of Bocas del Toro (Isla Colon) is the location of Filthy Friday. Remember to stay at Selina Bocas del Toro while you're visiting. The event begins on this island, you must take a boat to the second location, the Blue Coconut. Finally, you go to the Aqua Lounge to end the night. Once the partying is over the boats will take you back to Isla Colon where the after party will continue, most likely at Selina Bocas del Toro. The heart of partying in Bocas del Toro. This after-party will last until the next after party starts, and so on until there's no one left…
More In Bocas del Toro, Panama
When Is Filthy Friday Bocas?
Filthy Friday Bocas is a big party that takes place every Friday in Bocas del Toro, Panama. The party begins around 11:30am and goes until 8 or 9pm, plus after parties. Let's not kid ourselves, you'll be up for at least 24 hours.
Other than every Friday, sometimes there are alternative dates due to special events such as New Years Eve, Carnivale, etc. Keep up to date by checking out their calendar.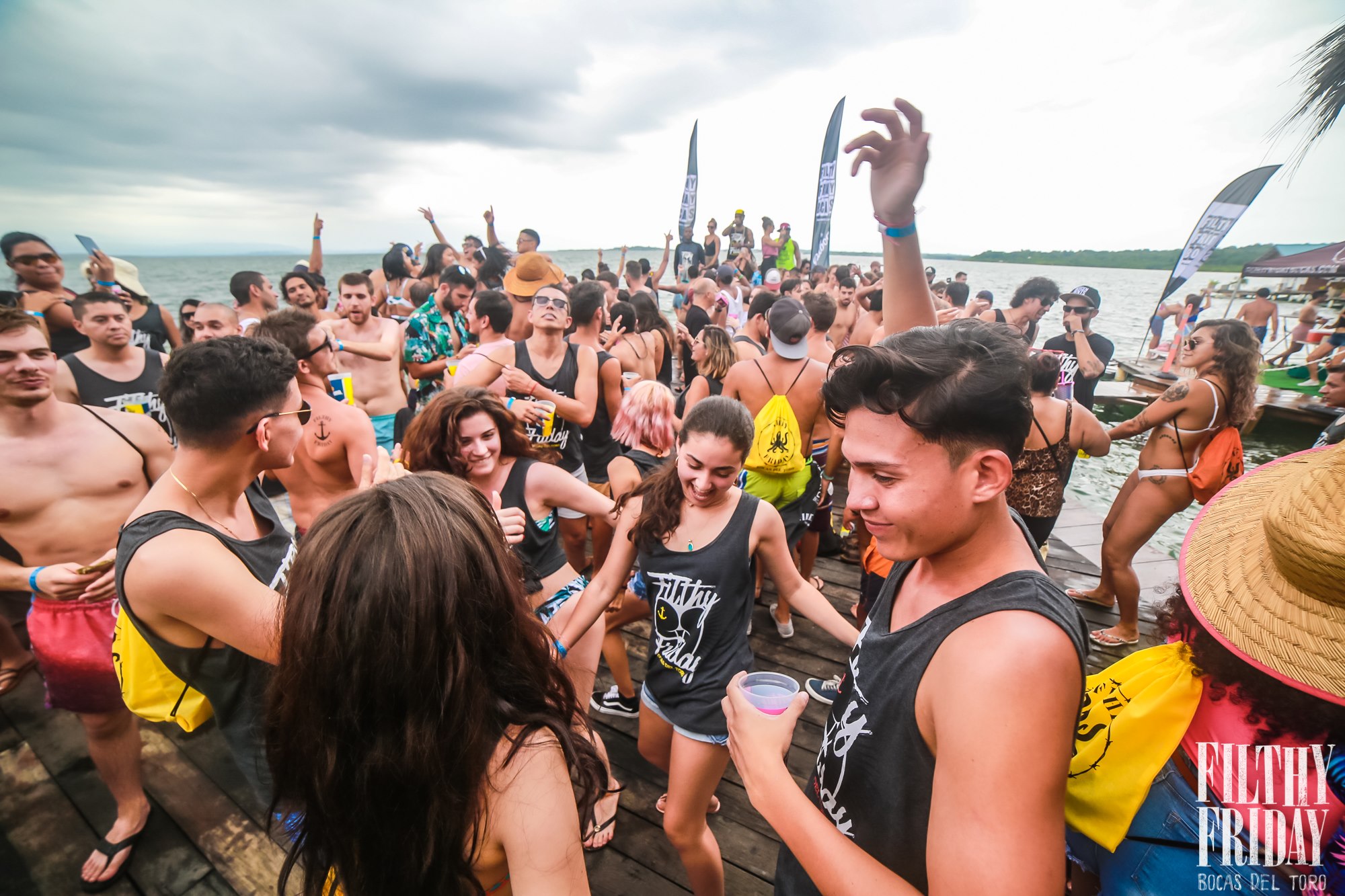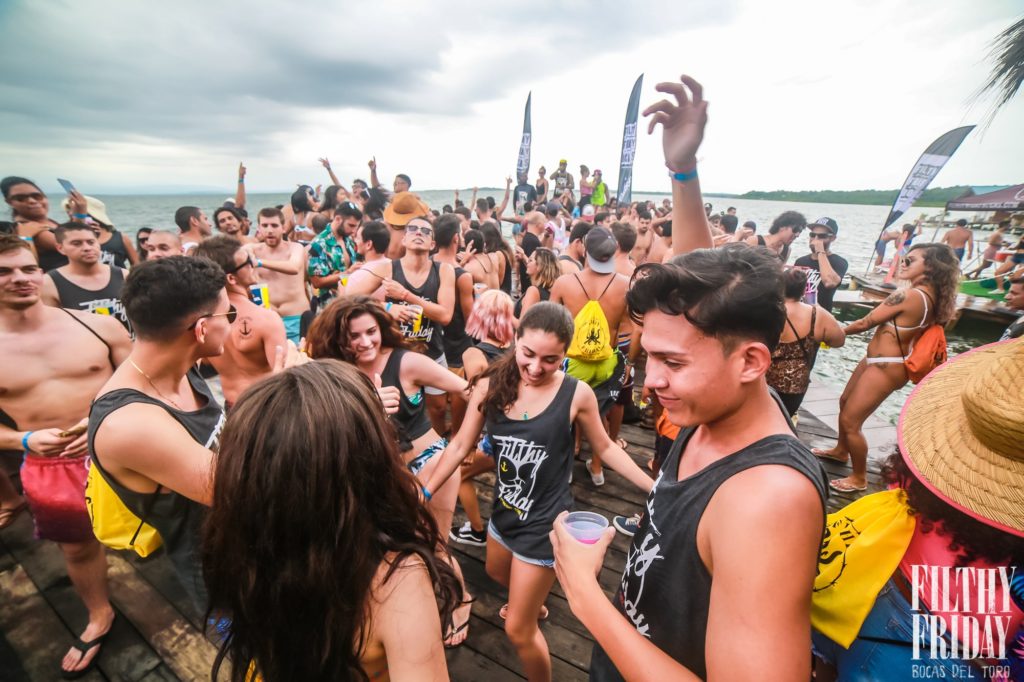 Pre-Party Over A Sunken Ship!
The party starts on Isla Colón – the main island in Bocas del Toro. Enjoy drink specials and warm-up shots to get the party started. Take a dip over a shipwreck or lounge on the sun decks while people from all over the world arrive to hang out at Filthy Friday!
Part 2 – 1:00 PM – Caribbean Sea
Since our second party location is a 10 minute boat ride away, you'll get to enjoy 360 degree panoramic views of Bocas del Toro's beautiful surrounding islands, with new friends at your side and cold drinks in hand. Now is when Filthy Friday starts to set in!
Part 3 – 1:30 PM – Isla Solarte
Dance Party, Swimming & Floatie Races
At our second venue, you'll enjoy an eclectic live set from Bocas del Toro's resident DJ, mixing all types of party music that is perfect for swimming and dancing, laying in the sun or swinging in a hammock. This is the definition of tropical paradise!
Part 4 – 5:00 PM – Caribbean Sea
Boozy Boat Ride #2 to Isla Carenero
It's hard to leave a party as legendary as Isla Solarte during Filthy Friday, but the only thing better is our finale party that is ready and waiting on Isla Carenero – offering panoramic views of Bocas town and the sunset.
Part 5 – 5:30 PM – Isla Carenero
Isla Carenero Sunset Party & Fire Show
The filthy finale takes place on yet another tropical island offering panoramic views of Bocas del Toro town and the sunset, diving platforms and more amazing music with a local twist! Finish the evening with Panama's best DJ's, more swimming and more dancing at the best party spot in Bocas del Toro. 
Part 6 – 9:00 PM – Isla Colon
The Never Ending After Party
Once everything officially tied to the Filthy Friday event is all said and done, the after party begins. Follow your new friends for a party that never ends.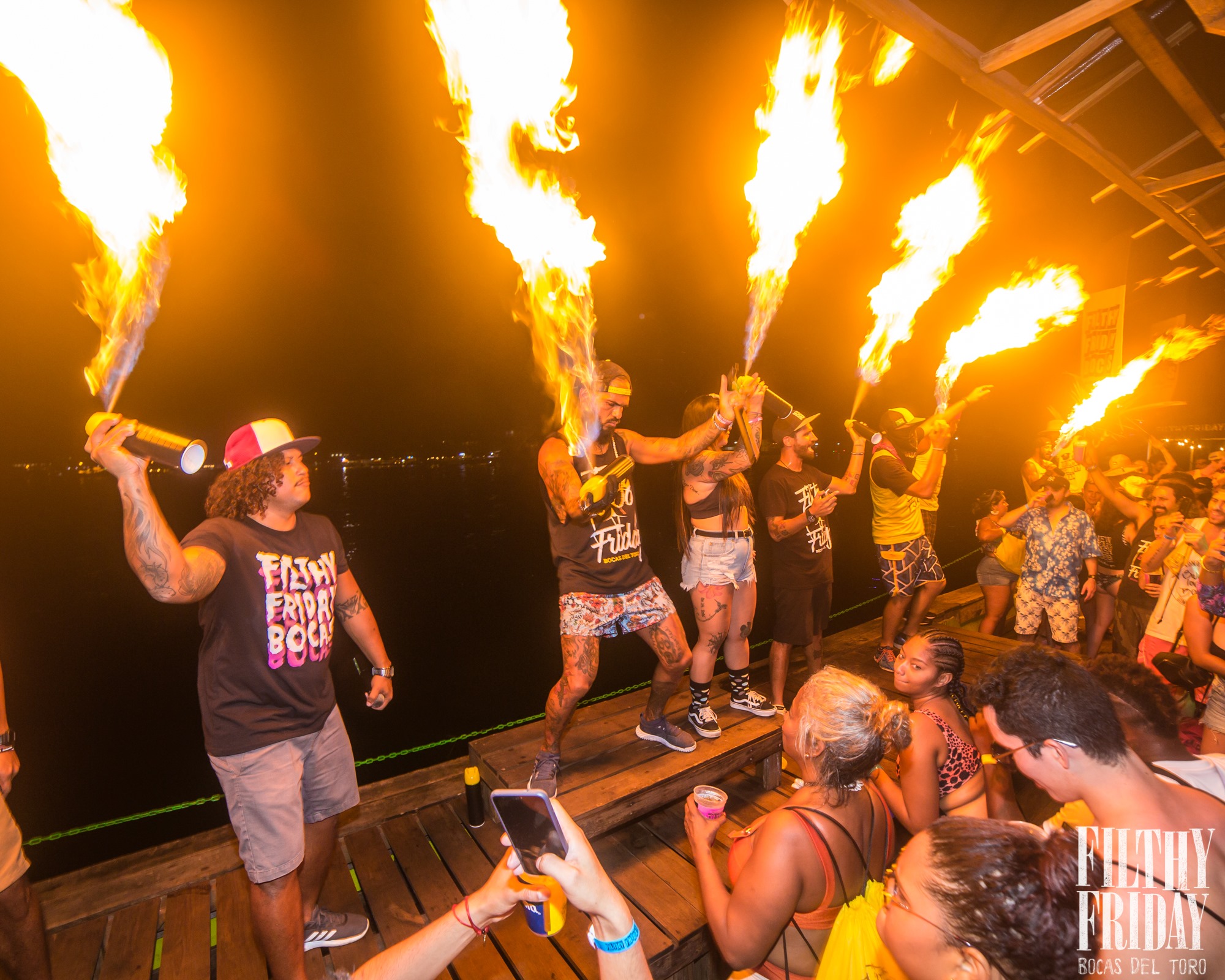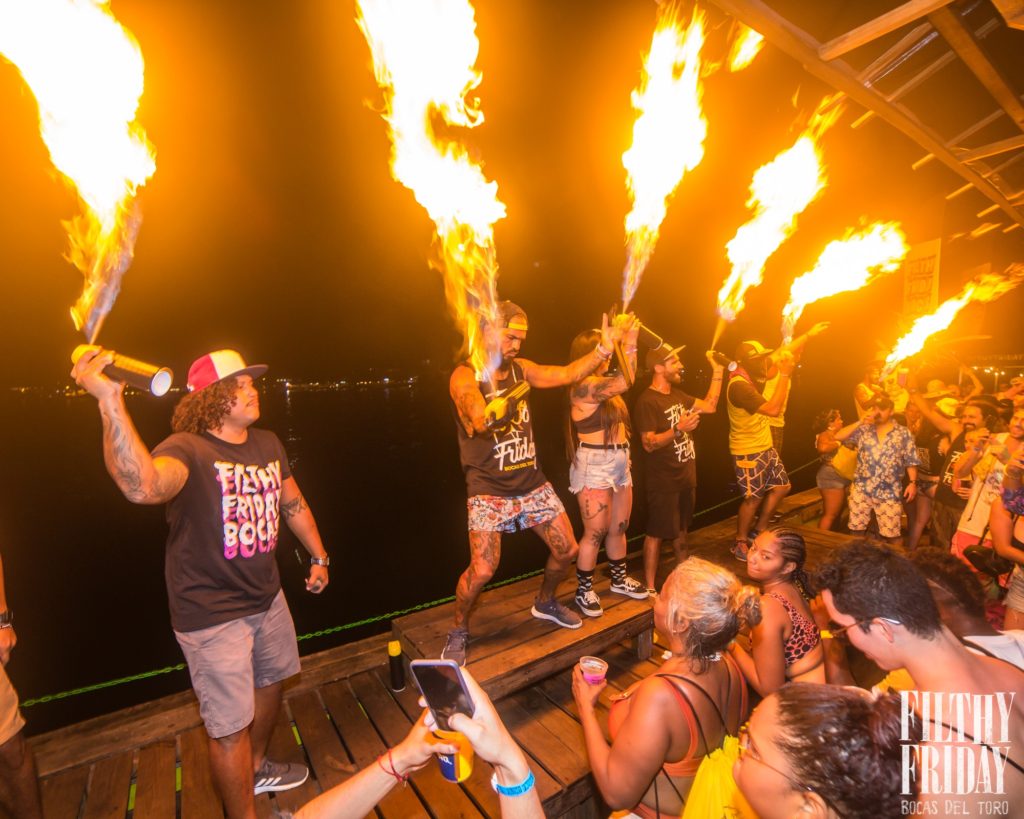 So lets go over the important information that we've learned:
Standard Price: $40 USD
VIP Price: $75 USD (probably idfk)
Times: 11:30am – 9:00pm
Best Local Party Hostel: Selina Bocas del Toro
After Party: Yes
Max People: 500
What to Bring: Water, Sunscreen, Bathing Suit, Cash, ID, Proof of Vaccine
What not to Bring: Booze, Drugs, Breakables, Family Heirlooms – you get searched and people tend to lose their bags on this adventure
Baggage Check: Yes. For $1
Is there Food and Drink available: Yes
What Should You Not Do: Try to swim to the islands. You'll probably die.
Wait, did we miss any information that you think would've been useful to know? Let us know!
Oh and if you have any wild and debaucherous stories from your Filthy Friday experience? Share your story for your chance to get featured.
Subscribe To Our Mailing List
Get updates and learn how to party