Thailand
The Crown Jewel of Partying Abroad
Thailand Lit Tips
Drugs: Very Strict
Rideshare options: Grab (Apple, Android)
Visa: 30 days visa free for most nationalities
Best Months: November – April
Drinking Age: 20
Best Party: Full Moon Party (January)
General USD Conversion: $1 = 33 Baht
Low Monthly Budget: ~ $1,000/mo
Language: Thai
Tap Water: Not Drinkable
Outlets: Types A, B & C
Safety Level: Very Safe
Party Ranking: 5 Stars
All Thailand Articles
Thailand Lit Tips
Drugs: Very Strict
Rideshare options: Grab (Apple, Android)
Visa: 30 days visa free for most nationalities
Best Months: November – April
Drinking Age: 20
Best Party: Full Moon Party (January)
General USD Conversion: $1 = 33 Baht
Low Monthly Budget: ~ $1,000/mo
Language: Thai
Tap Water: Not Drinkable
Outlets: Types A, B & C
Safety Level: Very Safe
Party Ranking: 5 Stars
All Thailand Articles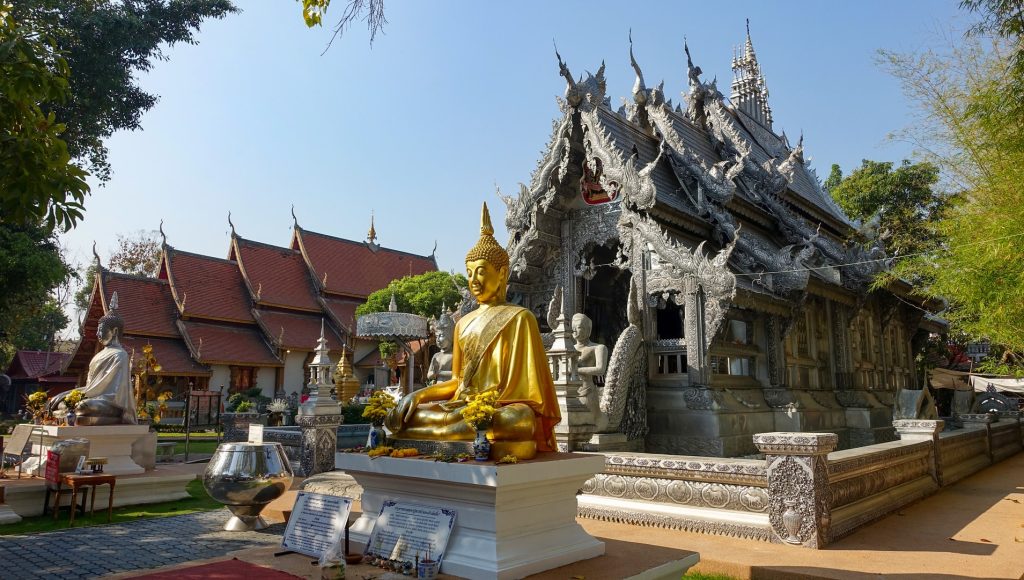 As far as partying in Thailand goes, Chiang Mai is the most chill out of the major cities, but that doesn't meet you can't turn up. One bar has $1 tequila shots… Honestly, this city is either a great launching pad for your Thailand experience or it's a great place to unwind before you head back home or your next destination.


Local Hostel Crawls
Since Chiang Mai is more of a chill town, partying with your hostel may just be your best choice. Most party hostels (especially the ones we recommend down below) will have bar crawls, in-hostel parties, or something along the lines already planned for their guests. 


Jungle Party in Pai
Pai is a city that is very close to Chiang Mai. It's quiet and essentially consists of one main strip (with an incredibly good pizza place) and that's it. But every once in a while, deep in the jungle, they host a Jungle Party. We got the chance to experience this party by chance and it just so happened Dosas and Mamosas was shooting their music video there. Truly an incredible experience. Oh, plus the city has mushroom shakes.


Old Town
There is one main party district in Chiang Mai. It's basically a giant open area surrounded by bars with cheap liquor. Dancing and partying in the streets is expected, and encouraged. This is the spot where most hostels will take you for your night out so expect to meet hundreds of other like-minded backpackers.
Slumber Party Chiang Mai is proud of being the home to the largest and most awesome partying in all of Thailand. This hostel is rated the best in the world and lives up to its reputation. You must be open to new cultures, friends, and make lasting friendships. Get ready to create some of your most memorable memories. Slumber Party is a party hostel, so you should expect to be surrounded by people who are sometimes loud, drunk, or naked. The hostel does not accept bookings from anyone over 35. They offer the most comfortable beds in Thailand and a great Cafe and Bar. The hostel is also close to nightlife, night markets, nightlife, and other attractions. You get free city maps, Wi-Fi, towels, and linen.
Deejai Backpackers, a large, lively guesthouse that has a vibrant social scene, is located in Chiang Mai's old town. It's only 15 minutes walk from Thapae Gate. The hostel is also home to a new garden that includes a bar, restaurant and pool table. All backpackers in Chiang Mai are welcome to the garden and guests can use the pool for free. 
Another branch of Bodega claims to have the best selection of hostels for partygoers in Thailand. We can guarantee that there will be a party at this branch. This location is close to the Thapae Gate and all the old town attractions. You can meet other travellers by joining them in organizing activities like pool parties, free shots and night parties.
This is the place to be if you want to party late, meet new people, have fun, drink, and have a good time.
There are many rooms available, including dormitory-style accommodations and private rooms. You can relax in the common areas and meet other party backpackers. You can also find a bar at the reception, which is great for meeting other travellers. There are optional activities that can be organized by the staff for certain nights, such as the Ladyboy Show Boxing, and pub crawls. 
Chiang Mai Gate Market
It's just a massive market with tons of awesome cheap food. I know from experience that having a couple of fried scorpions on a stick is the perfect cure for a bleeding hangover.
Songkran Festival
This festival starts on April 13th every year. It lasts two days at least and can go up to 6 days. It's basically just a massive city-wide water fight. Anything goes, as long as it involves water!
Did you know Chiang Mai has its very own Grand Canyon? It may not be as grand as the one in the USA but it's a nice place to spend a day cliff diving and throwing each other off a massive inflatable playground. Trust me, it's awesome.
Hangout with elephants! There are many elephant sanctuaries around Chiang Mai that treat their elephants properly. And please, don't ride them. It's abusive.
Get rowdy at a local boxing match! They go all out and are very talented at hitting each other in the face. Might be the best pregame you'll ever have! While you're at it, maybe take a class?
The Tuk Tuk Tour
Sometimes an incredibly cheap tuk-tuk will pop up. You think 'oh, we're so lucky!'. Unfortunately, you're probably not. These drivers will take you to various jewellers or suit shops that they get a commission from. Luckily, there's not much pressure if you get caught up in one of these tours. You just walk around for a couple of minutes then hop back in.


Credit Card Fraud
Paying with a credit card? Make sure it doesn't leave your sight! It may get used to make purchases or copy your signature.


The Jewelry Payout
This one is pretty obvious. Basically, someone will approach you and tell you that if you buy a bunch of jewels and bring them out of the country, someone will be there to give you a huge payout.  There will not be a payout.


Visas for Laos
Some travel agencies and locals will try and sell you a visa for Laos, the neighbouring country. These are unnecessary as you can purchase visas at the border. So most likely you're spending unnecessary money.


Inflated Transport Prices
An easy trap for tourists to call into is not knowing how much a cab or Tuk Tuk should cost generally. This may not break the bank but you will most likely get an inflated fare at some point. Try talking to other tourists or your hostel staff for a better idea of proper pricing.
Khao San Road
The most popular party street in all of Bangkok, Khao San Road is a blast. From laughing gas to bags of edible grasshoppers, you'll find everything that Bangkok has to offer here. The strip is surrounded by bars and clubs and is densely packed the entire night. It's a must-go-to spot if you're looking to let loose in Bangkok.


Nana Plaza
This place is essentially just a multi-level plaza filled with strip clubs, brothels, and all the debauchery you could imagine. It'll be hard to walk through it without being dragged into a club by a ladyboy. I suggest not venturing into this plaza alone, go as a group or else you may never leave…


Chinese New Year
I mean, it's a massive party in the capital city of Thailand to celebrate the New Year. It's going to be ridiculous and amazing! Not much more that I can say.


Soi Cowboy
Now, Soi Cowboy is a much smaller, raunchier version of Khao San Road. It's a little less of a spectacle but this is where you go if you want to get into the underground nightlife of Bangkok. With strip clubs and neon lights everywhere, it won't disappoint. Just be careful not to get scammed!
This newly opened hostel is in the center of Bangkok's activity. It is close to many of Bangkok's most popular attractions, including Khao San Road, Wat Pho and the Temple of Dawn. It has Thai-style decor and a friendly, social atmosphere. There are several communal areas for guests to relax in.
Additional amenities include luggage storage, lockable lockers, linens, towels, luggage storage and internet access. The location makes it an ideal choice for visitors who wish to experience the lively nightlife and party scene Bangkok is famous for.
Playground Hostel is the perfect place for backpackers looking to have a good time or to just relax and enjoy the company of other backpackers. You can play flip-cup it, have a beer bong, or play a drunken game of Jenga with the most welcoming staff in Bangkok.
Playground Hostel has some of the most affordable beds in the city. This will allow you to party the night away while exploring the City of Angels.
The Holy Sheet hostel, which is ideal for young adults who are looking to make friends and have fun in Bangkok, is the most social hostel. This hostel is somewhere in between party and chill.  The common area was created to bring people together and allow them to socialize. Apple TV can be used for Music, YouTube and NETFLIX. 
For guests to use, a brand new PS4 console is available with 3 controllers (Call Of Duty and GTA V, Star Wars, BATTLEFRONT I & more). There are many board games available, including Cards Against Humanity and What Do You MEME?, UNO, and more. 
The property is in the popular "Sukhumvit" area. The property is close to many bars, restaurants, nightclubs and fancy shopping malls so you can experience the daily life of Thai city residents. There are also self-catering facilities. The hostel is located just a 4-minute walk from Ekkamai BTS Skytrain Station. 
The Mad Monkey Hostel Bangkok offers clean, comfortable rooms, great service, and endless good times. This hostel is fun and friendly, with an amazing social scene. It is located in central Bangkok, just minutes from Khao San Road. However, it is tucked away on the side of a quiet canal. 
Mad Monkey offers a swimming pool, which is ideal for hot afternoons in Bangkok's bustling capital. There is also a large restaurant and bar where you can have a meal or meet new people. The private rooms and dorm rooms are spacious and comfortable. It is wheelchair-friendly and air-conditioned. There is also an outdoor terrace.
 
Everyone is welcome to join the party. This is the place for you if you are open to new people, willing to meet people from different cultures, ready to make lasting friendships, and eager to create some of your best memories. This may not be the right place for you if you're antisocial or just looking for a comfortable bed to sleep in. You will be surrounded by people who are sometimes loud, drunk and even naked. The facility does not accept bookings from anyone over 35. You will find the most comfortable beds in Thailand at this facility. There is also a cafe and bar that serves Western and Thai cuisines.
Rooftop Bars/Restaurants
While this should maybe be in our Partying section, there are plenty of rooftop bars to choose from. However, they can get pretty pricey and are generally quite classy so you won't be getting dumb drunk. Still worth checking out for a pregame dinner or if you want to take it relatively easy for a night.
Now, this isn't usually something we suggest, we like to avoid markets and temples as this is a partying travel site after all, but it's a unique version of a market as it's all done on boats. 
Just watch a Kickboxing match everywhere you go. It will never disappoint.
Durian Fruit
Feel like getting last night's hangover out of your system? Go huff some durian fruit.
Motorcycle Taxi
Now I know, you might be thinking 'Why is this even a suggestion? I'm trying to have fun here.'. Well, just you wait and see when you're drunk and can barely hang on to the driver that's ripping down the street weaving through traffic. It is a blast.
Thai Massage
If you're looking to get a massage while you're visiting Thailand, Bangkok is the place to do it. It can be as seedy or as clean as you want it. The choice is yours.
Zanook Wake Park
Do some flips while wakeboarding around!
Tuk-Tuk
These guys can be found outside tourist hotspots and hotels with well-spoken chaperones. They will ask you for your permission to stop at any shop or attraction to get a kickback. They don't have insurance and aren't licensed. However, they are great for short trips around Bangkok.


Closed Attraction
This is a very common scam at temples and tourist attractions. The process usually begins with a friendly local asking where you're from and how long you've been here. After that, they will tell you about their friend or "brother," the driver of the tuk-tuk who can take you to better attractions.


Fake Tourism Officials
Thailand has legitimate tourism boards. They do not send out agents to tourists to offer cheap goods or attractions.


Jewellery Fraud
This scam involves many people meeting you along the way… and then unexpectedly stopping by a jewelry shop. It is possible to get a tuk-tuk or taxi that will take you to local attractions for free.


Hostel Taxi Driver
It is common in Bangkok to have them use the meter before you open the door. But it is more common for drivers to try to negotiate fares rather than using meters. 


Pickpocketing/Theft
Is not a new phenomenon. You will find them everywhere, from shopping malls to tourist attractions. Sometimes a bump can be enough. Tourists riding on tuk-tuks may see motorbikes stealing bags right from the vehicle.


Bird Seed
This trick has become quite common all over the world. They will try to lure you into purchasing birdseed. They will later ask you for more money to purchase street food for their family.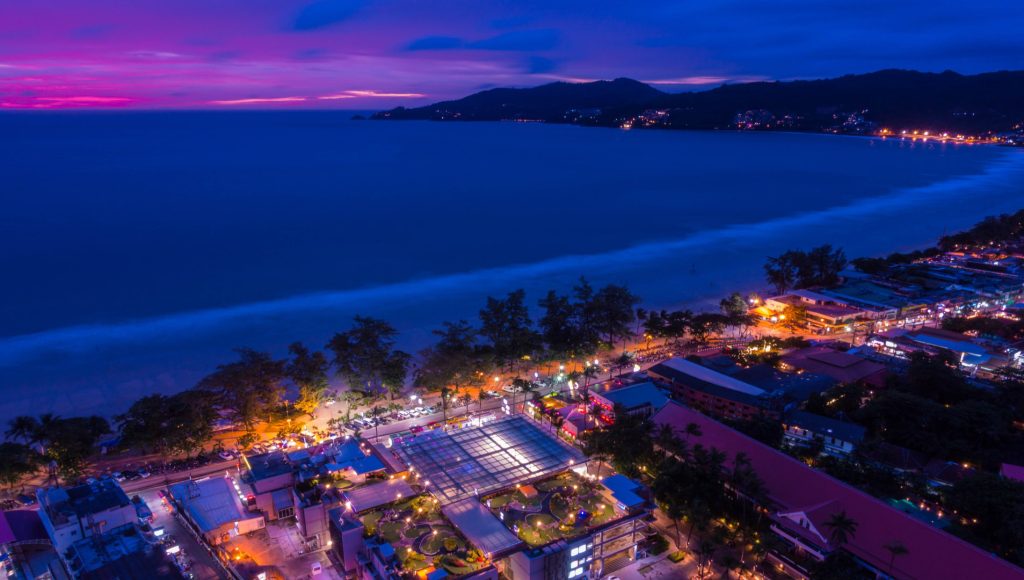 Full Moon Party (Not THE Full Moon party)
Held on Paradise beach, these Full Moon parties happen throughout the year. It's Phuket's version of the infamous party, not the official legit one that you hear about all the time. Still, a great time nonetheless if you are there. These parties are usually held twice a month.
P.S. The real Full Moon Party happens on Koh Phangan. 


Buckets
Everyone has heard of Buckets in Thailand. A conglomerate of liquor that will get you as drunk as possible as quickly as possible. So partake! They're a staple in Phuket. Oh, and be careful or whatever.


Bangla Road (Patong Beach)
The infamous Bangla road. A most go-to for anyone finding themselves in Phuket and wanting to have a good time. It's another one of those classic party streets found in Thailand, bars, clubs, food, games, you'll find it all. Although, since this city is one of the bigger tourist hubs of Thailand you will find that things are more expensive.


Beach Parties
There's a variety of beach clubs that host parties every night in Phuket. Go to one, you will not regret it. If you've been following these cities in order this in theory will be your first beach and beach party of your trip!


Go Go Bar
Honestly, I think you should just go to one and find out for yourself.
Bodega has many hostels across Thailand, but the original one in Phuket was the first. This is where the adventure and fun began. It's still one of the most popular spots in Phuket to party hard and socialize.
Good night's sleep? It's not so easy here. The most amazing all-night fun? Probably! Drinks are often cheap, sometimes even free. The atmosphere is lively and fun, with tournaments and games almost every night.
Participate in a pub crawl to see the best spots around town and then relax on the beach the next day. Bodega can organize a ferry boat ride to take you to Ko Phi Phi to experience the Full Moon Party. Pick-up is available from the hostel.
Bodega also offers island tours and activities for those who aren't exhausted from partying.
Just a 3-minute walk from the beach. Lub D Patong boasts a large lobby/common area. You will find everything you need, including a foosball and games area. You can also find the world's only Muay Thai Boxing Ring in the lobby. The lobby features a large bar that serves delicious food and drinks prepared by some of the best chefs, baristas, and mixologists.
Slumber Party operates hostels in all of southeast Asia and knows the party business! You can join a pub crawl or have fun at the bar. Or, you can just go to the beach with new friends.
Slumber Party organizes tours and activities for those who want to explore the island in the day. You can also ask at the reception about other adventures on the island.
The hostel has a 24-hour staff so that you can go out with your friends and not have to worry about getting back at a specific time. Slumber Party also provides lockers to store your belongings while you're away.
From BearPacker hostel, you can reach Patong Beach or Bangla Walking Street easily. BearPacker Patong Hostel offers 24-hour reception to ensure you have the opportunity to enjoy Phuket's best attractions while you are here. 
Slumber Party always has something going on, from drinking games and pub crawls. You can certainly enjoy the best of Phuket's party scene.
The swimming pool is a great place to cool down in the heat of Phuket and have fun with new friends. You can also book tours from the reception desk if you feel like exploring other parts of the island. They are open all day, so you don't need to be worried about checking the clock.
Spend your time on the beach playing beer pong, and then go out to nightclubs in Phuket. You might find your days at Slumber Party to be some of the most memorable in your life.
Ai Hostel in Phuket's downtown is where you should be if you are looking for a place to stay. It is a short walk from the Night Market, Shopping Malls, and many other cool bars and nightclubs.
You can easily find a bus to take you to the beach. The hostel also has motorcycle rentals that allow you to be more independent. Ai Hostel offers home-style comforts, including a shared kitchen that allows you to save money on meals and a laundry area for self-service.
Ask the reception staff for information about the best nightclubs or tours in the area. They can arrange activities.
You don't have to party if you want, but you can still chill out at the hostel watching DVDs or playing games in the game room. Or you can chat with other guests outside on the balcony and enjoy the vibe of Phuket.
Ping Pong Shows
Again, if you've never heard of a Ping Pong show before, you're in for a treat. I won't ruin the surprise but get ready for your jaw to drop. Only for people who are into seeing one of the wildest shows that you ever will in your entire life. 
Unfortunately, you will probably get scammed if you choose to attend one of these shows, so be careful. They're a bit underground and you'll need a local or a hostel employee to help you find one. Keep your money tight and be cautious. 


Parasailing
Get strapped into a parachute and tied to a boat that rips around the ocean for a short period of time giving you some incredible views. What could be more exhilarating than that? This is offered at a variety of beaches around Phuket. They tend to be just random locals that you hand money to, so not much in terms of regulation. But it is awesome. Good luck on the landing!


Simon Cabaret & Ladyboys Shows
I think the names speak for themselves. When in Thailand! 


Zorbing
I'm going to get this out of the way, you probably shouldn't do this if you're hungover. We did, and it was a mistake but I don't regret it for a second. One of the most fun things I've ever done. Basically, you get put into a giant inflatable ball and pushed down a massive hill. Oh, and you can throw multiple people in one ball. Be ready to smash your heads together.
Photo Scams
Many merchants and natives of the Bangla Road, Patong have devised clever schemes to steal your money by taking advantage of technology. Be aware of the exotic animals that some people will allow you to take pictures with. After you have taken the photo, they will demand money. They are almost always abusive and harmful to the animals being used for bait.
Expecting tourists will also be greeted by groups of boys (or LadyBoys). You might like to take a photo with the locals. In many cases, it will cost you. It is possible for children or men to dress as women in groups to pose for photos. They will likely ask you for money.
Rare Gem
This scam has been growing in Phuket. It is easy to fall for it and can be very tempting. How does it work? The taxi driver informs you nonchalantly about the great deals on various gems in Thailand. He offers to drive you to a local jeweller. You agree to browse through the stunning gems. Some look real but most are fake. These frauds have been very popular in Phuket as they exploit the greed of individuals. These scams seem too good to be true. The scammer will end up buying the gems and then returning them to you. Only then, when they are trying to re-sell you realize that you were duped.
Ping Pong Tout
Although it isn't a major problem, the tout scam can be irritating. As you walk down Bangla road at Patong beach, it is impossible to miss these guys (or women). You will be invited to the Go-Go Bar for the famous ping-pong show by waving their laminated card at them. What's the trick? To make the touts' job easier, you will be charged an additional fee for drinks at the bar. You will be charged the regular price per drink if you enter a bar by yourself.
Travelling from the Airport
The most popular modes of transport from Phuket airport are taxis and minivan services (tuk-tuks). Scams usually revolve around minivan services but taxi drivers are also known to con tourists. After you tell the driver your hotel destination, the vehicle pulls up at a travel agency. The agent insists that the hotel is closed or booked. The agent offers you the chance to book a different hotel, but the driver won't take you to your destination unless the agent arranges for other accommodations. It seems confusing, but that is likely what they are trying to do. In any event, insist that the driver takes you straight to your destination.
Jet Ski Scam
This is the most well-known scam in Phuket. It seems like a great way to spend your vacation. But when you return home for the day, you will be surprised. A few jet skis are rented from a legal-looking person on the beach. After a couple of hours, you're able to enjoy the jet skis and are later accused of causing bodily injury. You often find the damage already done, but you start a long argument with the jet ski owners. Police are even called. To make you feel even more pressured to agree to the requested amount, everyone is involved in the scam. Avoid jet ski rentals to avoid falling for this scam.
Drunk Bill
Bangla Road is where you are, and you're having a great time with your friends at one of the many bars. You are probably getting a bit drunk, and you're also feeling very happy, now that it is late. It is possible that you will notice more girls around you than you did when you first started. You may be asked for a drink by them, which is a nice gesture to make at the beginning. They are here to keep your company.
As the night progresses, you might meet girls from other bars, but they may join because you're losing sight of reality. Of course, you might not even know how much 'Thai Baht' is worth. You return to your hotel and ask for the bill. The total might surprise you. It won't be easy to remember how that large amount was reached. You didn't realize how many drinks you had purchased, or how much they were going to cost you. Everyone was so friendly and kind! Next time, pay each bill immediately or have enough clarity to say no.
Timeshare Scratch Card
When you're out enjoying your day on the beach or walking along the shopping streets, someone approaches you offering a scratch card. The tricky part is that you will need to spend at least 2 hours at a timeshare presentation to be eligible for the prize. It could be anything, from a scam to a luxury resort package to a low-cost package. A survey about your Phuket holiday experience is required. This is done to verify that you have enough money. You will then have to deal at the presentation with all the hard-sell and aggressive strategies.
General Thailand Articles